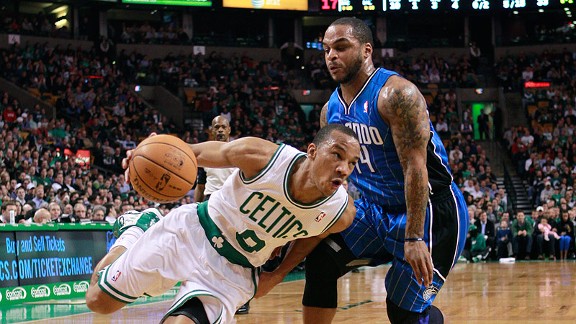 Greg M. Cooper/US Presswire
Avery Bradley was outstanding in place of Rajon Rondo.BOSTON -- Rapid reaction after the Boston Celtics defeated the Orlando Magic 87-56 Monday night at TD Garden:


HOW THE GAME WAS WON
Competing without five players, including their starting backcourt of Rajon Rondo and Ray Allen, the Celtics put together their finest defensive effort of the season, completely neutralizing Dwight Howard and the Magic. Orlando shot a mere 24.6 percent (16-of-65). Paul Pierce filled up his stat line again, chipping in 19 points, 7 assists and 5 rebounds over 33 minutes, while Kevin Garnett added 14 points and 10 rebounds. Former Magic big man Brandon Bass added 19 points and 8 rebounds off the bench for Boston, while Avery Bradley's defensive intensity was a game-changer, more than holding his own in place of Rondo. Howard finished with 18 points and 14 rebounds, but was minus-20 in plus/minus, and scored only four second-half points while missing all six shots he took.
TURNING POINT
The Celtics were only ahead by a point with three minutes to play in the second quarter, but dominated the next 12 minutes of action. Boston closed out the half on a 12-3 run with Jameer Nelson's buzzer-beating jumper the only bucket for Orlando in that stretch. Garnett and Pierce provided Boston's offensive punch to push the lead to double digits at intermission. The Magic would muster a mere 10 third-quarter points as Boston maintained the defensive intensity, its lead ballooning to 23 entering the final frame.
D-FENCE! D-FENCE!
The Magic made only five second-half buckets, shooting a mere 18.5 percent after the intermission. The Celtics never took their foot off the defensive gas and smothered Orlando until the final whistle. What's more, Boston helped force 25 Orlando turnovers (which they cashed in for 24 points).
TEMPERS FLARE
Maybe indicative of Boston's defensive intensity, Jermaine O'Neal got into a little dust-up with Howard, jamming his finger in the Orlando center's face in the third quarter after getting whistled for a foul. O'Neal appeared upset at some elbows that landed near his mug throughout the game and fired back at Howard (and it only further sparked Boston's intensity).
GINO TIME
Nothing puts a bigger smile on Garnett's face than seeing Boston's favorite American Bandstand dancer grooving on the JumboTron. Gino dropped in with the Celtics on top 83-51 with 2:13 to play.
VIDEO TRIBUTE
The Celtics honored Glen Davis during Monday's game. He finished with 6 points and 11 rebounds over 23:41 off the bench.
WHAT IT MEANS
The injury-depleted Celtics get a big win over a legit foe -- their first of the season after feasting on Eastern Conference doormats like the Wizards (three times), Pistons, Raptors, and Nets. This is the most confidence-inspiring victory of the season and it will be interesting to see if Boston can build off of it, particularly as it gets players back from injury (Rondo, Keyon Dooling, and Mickael Pietrus could all be back by Thursday's visit to Orlando, capping this home-and-home between the two teams).