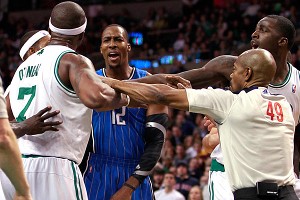 Greg M. Cooper/US Presswire
Jermaine O'Neal mixed it up with Orlando's Dwight Howard as the Celtics played with a rare fire.The depleted Celtics improbably put together their best game of the season against a top foe:
MAY: CELTICS DEFENSIVE INTENSITY CHANGES FORTUNE
Hey, it only took 16 games. But after what we witnessed Monday night, you could say it was worth the wait. We might never see a Boston Celtics team play quite as well as this one did -- or see the Orlando Magic play quite as poorly as they did -- but isn't this what we all had been waiting for? How does 87-56 sound against a "quality team"? It was a defensive tour de force. Or, as Magic coach Stan Van Gundy accurately described it, "an absolute beatdown." The Magic have been in the NBA since 1989 and they never had a night like this. Orlando hit the futility trifecta, establishing franchise lows for points, field goals (16) and field goal percentage (24.6 percent). Van Gundy, who has coached more than 600 NBA games, said after this one, "That's the most dominating defensive performance I've ever had against me."