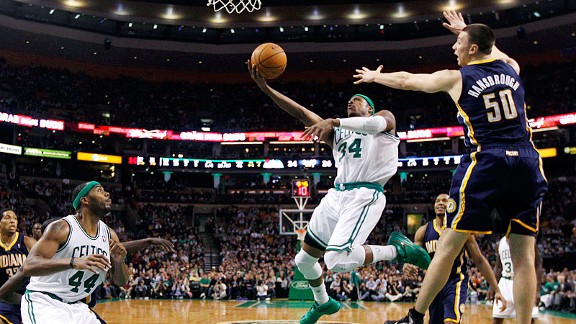 AP Photo/Charles Krupa
Celtics captain Paul Pierce drives on the Pacers Friday night at TD Garden. BOSTON -- Rapid reaction after the Boston Celtics defeated the Indiana Pacers 94-87 Friday night at TD Garden:


HOW THE GAME WAS WON
Fresh off spearheading Boston's comeback effort in Orlando, captain Paul Pierce continued to shoulder the load for the injury-depleted Celtics, scoring a game-high 28 points on 10-of-23 shooting with 10 rebounds, 8 assists, 3 steals and 2 blocks over 33 minutes (the only negative being six turnovers as the offense ran through him again). Kevin Garnett (13 points, 8 rebounds, 4 assists, 2 blocks over 32 minutes) and Mickael Pietrus (13 points, 8 rebounds over 33 minutes) aided Boston's offensive attack, while Chris Wilcox chipped in 14 points off the bench. Danny Granger scored 21 points to lead the Pacers.
TURNING POINT
The Celtics came out of the intermission a bit sluggish and the Pacers quickly erased an eight-point halftime deficit, knotting the game at 46 just 3:16 in. If tired legs from Thursday's furious comeback were catching up with Boston, it didn't show. Pierce, who played a whopping 44 minutes Thursday night, made a 3-pointer from the wing, fed a cutting Avery Bradley on the baseline for a layup, then drove hard for a layup of his own, helping to push the lead to 55-46 little more than two minutes after Indiana tied the game. The Pacers never quite threatened again.
WILCOX COMES UP BIG
Wilcox -- Boston's big free-agent splash after inking him to the taxpayer's midlevel exception this offseason ($3 million) -- scored 14 points on 6-of-8 shooting while adding six rebounds over 21 minutes to key the bench effort (the injury-depleted Celtics ran with only five reserves and, outside of Wilcox, the four others combined for a mere 10 points and five rebounds).
LOOSE BALLS
Avery Bradley, drawing his fifth straight start in place of Rondo, was quietly effective. He limited Indiana point guard Darren Collison to eight points on 3-of-9 shooting and was his usual pest the entire night. ... Brandon Bass kicked in 12 points and six rebounds over 38 minutes in a starting role. ... Fresh off his breakout effort, E'Twaun Moore finished with four points over 14 minutes. ... Pietrus earned a questionable flagrant foul and taunting technical in the final moments.
WHAT IT MEANS
OK, so it wasn't coming back from a 27-point deficit, but the Celtics showed a lot of grit in this win. Playing the second night of a back-to-back without three starters and having expended a ton of energy in that furious comeback in Orlando, the Celtics would have been forgiven if they endured a letdown. Instead, facing a foe that already beat them twice, including on the Garden floor earlier this month, Boston found a way to claw their way through this one, running its winning streak to four games. Now Boston (9-9) is back at .500 and climbing their way back toward the pack atop the Eastern Conference. With a favorable schedule the next two weeks (five of the next six opponents are under .500, only Memphis on Super Bowl Sunday is currently above that mark at 10-8), there's a chance to really build some confidence and momentum.