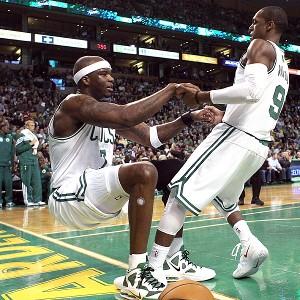 Elsa/Getty Images
Despite the occupational hazard, Jermaine O'Neal keeps giving up his body for charges. Tracking charges drawn is an inexact science because of the somewhat subjective nature of the call, but our good friends at HoopData are tracking the stat this season and it offers a glimpse into just how impressive Celtics center Jermaine O'Neal has been at giving up his body this season.
According to the site's stats, O'Neal currently ranks fourth in the NBA having drawn 15 charges in 15 games. He trails only Minnesota's Ricky Rubio (18), Sacramento's DeMarcus Cousins (17), and Washington's John Wall (16). But here's the more impressive part: all three of those players have at least four more games played and at least 200 more minutes of court time. Break it down by charges per minute played and O'Neal (one every 22.9 minutes) is far and away the leader in the clubhouse.
What's more, the league average is three charges with 334 minutes played. That means O'Neal is five times above the league average in his 343 minutes played.
The downside: O'Neal endures his fair share of injuries from giving up his body, including the most recent ailment -- a left knee bruise -- from taking a charge from Orlando's Hedo Turkoglu in last Monday's win.
"I'm still negotiating right now with [Celtics president of basketball operations] Danny [Ainge] on [contract] kickers," O'Neal joked last week. "They told me the other day that I'm second in the league in charges behind two guys that are tied for first. But I'm playing a lot less minutes, I'm playing like 20 minutes per game. Which I don't think the league's ever even seen that -- a guy that block shots and takes charges. It's a tough job to do. Basketball is about giving up your body. You don't stop, you can't stop because you don't want to be hurt. We are vulnerable to getting hurt on any given play -- a charge, or just running up and down the court. So, if that's what this team needs, I'm going to do it."
According to HoopData stats, Rajon Rondo and Keyon Dooling are second on the team having drawn six charges apiece. If an official charge metric existed last season, Glen Davis might have set an NBA record after establishing an insane pace at the start the season (nearly two per game before tapering late).