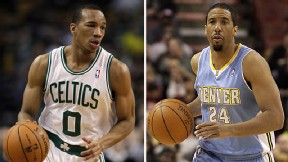 US Presswire/AP Photo
Avery Bradley and Andre Miller.BOSTON -- Avery Bradley needs no guide on defense, his teammates going so far as to suggest that he's already one of the league's top on-ball defenders given his penchant for full-court harassment of opposing ball-handlers that's been on full display during Rajon Rondo's eight-game absence.
Offensively, the Celtics remain baffled by his struggles to consistently knock down the mid-range jumper. So coach Doc Rivers came up with a simple plan to allow Bradley to thrive with his current skill set.
"I told Avery he has to be Andre Miller, who I think is the best cutter without the ball in the league," said Rivers. "Because no one's guarding him and [Miller] keeps scoring 15-16 points per game and teams keep doing what they do and he back-cuts. So instead of looking at the ball, we told Avery, 'Just look at your man. Right when he turns his head, cut behind him. He'll never know you're gone.' And it's been good for him."
Miller is a 12-year veteran who has always thrived at generating points around the basket despite an inconsistent perimeter game. Until Bradley's jumper starts falling consistently, the Celtics want him to utilize his size and athleticism to continue generating points around the rim.
Consider this: Bradley ranks merely in the 14th percentile among all NBA players, averaging 0.722 points per play, according to Synergy Sports data. Dig deeper and you'll see he's averaging a mere 0.586 points per play on spot-up jumpers, which account for 25.2 percent of his total shot attempts (and he's actually struggling even more out of the pick-and-roll). But Bradley is averaging a whopping 1.438 points per play off cuts (87th percentile) and a ridiculous 1.583 points per play in transition (98th percentile).
"We keep telling [Bradley], the last three or four games, teams are starting to guard him where they're just not guarding him," said Rivers. "In the [first] Cleveland game, Kyrie Irving was just running around zoning -- what they do on Rondo. So we just told [Bradley], if you keep cutting under the basket, you're going to have a layup drill. You have to. The whole key is our guys have to pass it to him, and they did that. They've done it two games in a row. That's good for Avery.
"It's really nice when you see a young player learn he's not going to score that much off the dribble right now -- he will -- but it's more his cuts that's getting him shots."
The model is clearly working. Over his last six contests, Bradley is 14-of-20 shooting (70 percent) at the rim, including 7 of 10 over the last two games (capped with a perfect 4-of-4 effort Wednesday against Toronto). Now they just need that sort of production to become a model of consistency.