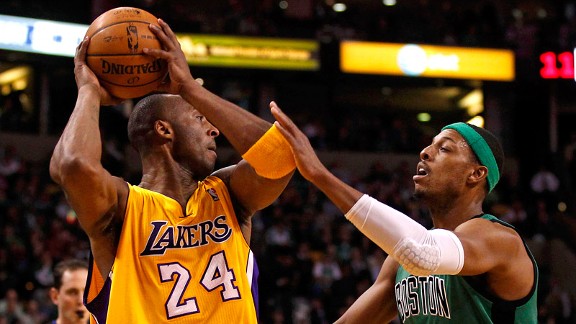 David Butler II/US Presswire
The first Celtics vs. Lakers battle of the season lived up to the hype.BOSTON -- Rapid reaction after the Los Angeles Lakers defeated the Boston Celtics 88-87 in overtime Thursday night at TD Garden:

HOW THE GAME WAS WON
Kobe Bryant scored a game-high 27 points on 11-of-24 shooting, while Pau Gasol added 25 points on 12-of-20 shooting with 14 rebounds as the visiting Lakers escaped the Garden with another regular-season triumph. The game wasn't short on excitement, spilling into overtime, where Paul Pierce's step-back jumper in the final seconds was off the mark (and Gasol blocked Ray Allen's potential putback before the buzzer). Pierce had made consecutive jumpers, including a 3-pointer with 1:51 to go that put Boston out front by a point, but Andrew Bynum's tip-in (off his seventh offensive rebound of the night and 17th overall) proved to be the different with 89 seconds to go. Allen finished with a team-high 22 points, while Pierce chipped in 18 points, nine rebounds and seven assists.
FREE BASKETBALL!
Neither team could separate in the fourth quarter. It was a one-possession game the entire frame with the teams simply going back and forth at each other over the final five minutes. Mickael Pietrus made a 3-pointer to put Boston out front 77-75 with 4:33 to go and Kobe Bryant answered with a fadeaway at the other end to tie the game. Rondo produced a teardrop, but Andrew Bynum answered with a three-point play to put the Lakers back out front. Coming out of a timeout, Ray Allen drilled a 3-pointer to push Boston back ahead, but Gasol tipped in a Bryant miss with 9.8 seconds to go to tie the game at 82. The Celtics had one last gasp, but a final play for Allen fizzled when Pierce couldn't pull the trigger on the pass and Pietrus was forced to chuck a prayer from deep beyond the arc.
PATRIOTS-PALOOZA
New England Patriots owner Robert Kraft sat next to Celtics owner Wyc Grousbeck, while players Rob Gronkowski, Vince Wilfork, Patrick Chung, Julian Edelman, Brandon Spikes, Devin McCourty, Sterling Moore, and Tiquan Underwood were in attendance as well. The crowd showered them with a standing ovation after a handful of players and Kraft were shown on the JumboTron with a congratulatory message for their Super Bowl appearance.
BRYANT STARTS SLOW, HEATS UP FAST
Bryant went the first nine minutes without a field goal (or even an attempt), but got going in a hurry late in the first quarter. He scored seven points over the final three minutes of the frame and was a quietly efficient 4-of-6 shooting for 11 points before the break. He put up 10 shots in the third quarter, while scoring 12 points to help the Lakers carry a three-point lead into the final period. Bryant hit a number of big shots down the stretch when his team needed them, particularly off fadeaway jumpers.
ROTATION WATCH
With Avery Bradley dressed, but unable to play, Doc Rivers leaned on E'Twaun Moore to spell Rondo, and the rookie second-round pick chipped in 8:36 of floor time, missing the only shot he took (and finishing minus-7 in plus/minus). Marquis Daniels, in his first game back from a mild right ankle sprain and pressed into action with Sasha Pavlovic suffering a setback with his injured left wrist, got a minute in the first half, but was quickly pulled and did not return.
WHAT IT MEANS
The Lakers snap the Celtics' season-high five-game winning streak. Boston had won nine of its previous 10 before this defeat. The Celtics have a tough turnaround coming off a rivalry game that spilled into overtime and will fly to Toronto for a matchup Friday night against the Raptors. Boston then returns home for a Sunday showdown against the Chicago Bulls. The Lakers looked like a team that needed it more on Thursday and the battle of the boards proved to be the difference again in this matchup (the Lakers finished with a 55-45 edge overall, and produced 24 second-chance points off 15 offensive boards).