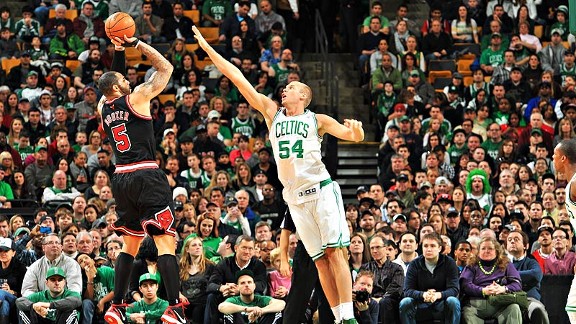 Brian Babineau/NBAE/Getty Images
Injuries up front left the C's leaning on the likes of Greg Stiemsma against the Bulls.BOSTON -- Rapid reaction after the Boston Celtics defeated the Chicago Bulls 95-91 Sunday afternoon at TD Garden:


HOW THE GAME WAS WON
Coming off an uninspired effort in Toronto, Celtics point guard Rajon Rondo came out in attack mode and produced a triple-double, chipping in a game-high 32 points, 15 assists and 10 rebounds over 40 minutes. Kevin Garnett added a double-double (13 points, 12 rebounds) in just 30 minutes, while Chris Wilcox (11 points, 9 rebounds) and JaJuan Johnson (12 points, 4 rebounds) were big up front for size-depleted Boston. The Celtics limited the Derrick Rose-less Bulls to 38.6 percent shooting from the floor (34-of-88). Boston never trailed, but it hardly felt that way. The Celtics opened an 11-point lead in the early going, only to watch the Bulls quickly pull back within a point. Boston could never separate until the final minute and even that was no easy task against a pesky Bulls squad.
TURNING POINT
The Bulls were within four with 9:41 to play, but the Celtics (finally) put some space between the teams. Ray Allen, who had only one field goal to that point, drilled a 3-pointer and a pull-up jumper that ignited a 14-4 run. Johnson added a layup and Pierce a triple as the lead ballooned to 11, but the real highlight of the stretch was still to come ...
LOB CITY?
... OK, so no one is going to confuse them with Blake Griffin and DeAndre Jordan, but the Celtics got all alley-oopy while stretching their lead to 14. First Johnson called for the lob from Rondo while running on the break, then Wilcox threw down a Rondo feed for a 86-72 lead with 5:08 to play. The Bulls made a furious charge late in the game, giving themselves a chance to tie with about 90 seconds to go, but Boston hung on.
JJ GETS A LOT OF PLAY
With center Jermaine O'Neal (shoulder, knee) and top reserve Brandon Bass (knee) out of the lineup, Johnson got extended floor time, including a whopping 18:10 in the first half (by comparison, Rondo played just two seconds more, a team high through the first two frames). Johnson logged a career-high 33:08, chipping in 12 points on 6-of-13 shooting with 4 rebounds, 2 steals and a blocked shot. Combined with a 22-minute stint last week against Memphis, Johnson has played roughly 53 percent of his total NBA floor time (105 minutes over 15 games) during the last two Sunday contests without Bass available.
DOOLING RETURNS
Celtics reserve guard Keyon Dooling, who had missed 16 of the team's last 17 games due to right knee and right hip ailments, returned to the floor for the first time since Jan. 26. Dooling missed both shots he took over a mere 8:36, playing off the ball with the backup unit (Avery Bradley served as point guard). Dooling grabbed two rebounds and was a minus-6 in plus/minus.
WHAT IT MEANS
Boston nearly fumbled it away in the end, but style points need not apply. After cringe-worthy losses to the Lakers and Raptors, the Celtics responded by taking down the NBA's best team. Sure, the Bulls didn't have Rose, and All-Star Luol Deng (3-of-12 shooting, 10 points) was virtually invisible. But Boston still found a way to grind out the victory, which should stem any further panic (for the moment, at least). The Celtics enjoy a two-day break and might even be able to squeeze in a rare full-throttle practice session before the Detroit Pistons visit Wednesday night. After that, the Celtics should keep their suitcases handy as they embark on a five-game road trip (with the All-Star break mixed in at the end). After Wednesday, Boston doesn't play at home again until Feb. 29.