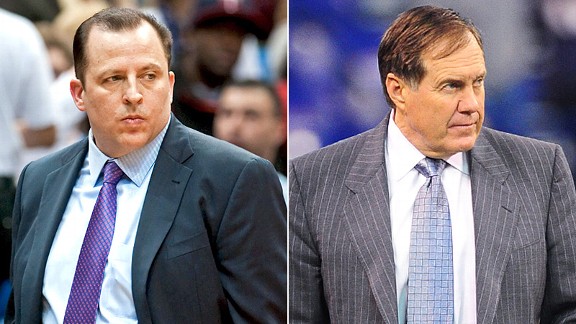 US Presswire
Bulls coach Tom Thibodeau and Patriots coach Bill Belichick.BOSTON -- With the Bulls in town Sunday, Celtics coach Doc Rivers again was asked why it took former top assistant Tom Thibodeau so long to land a head coaching job, particularly given all the success he's had since taking over in Chicago.
Rivers noted Thibodeau's gruff exterior and thought for a moment about an appropriate comparison. Then it came to him, another defensive genius whose personality isn't always on full display: Patriots coach Bill Belichick.
"[Thibodeau has] a terrific personality. Belichick, maybe, is similar in that way -- away from [the game]," Rivers said. "I think [Thibodeau's] players see that. And that's all that really matters -- if you can get your guys to buy in -- and he has."
The Bulls, who advanced to the Eastern Conference finals last season and arrived in Boston with an NBA-best 23-6 record, clearly have adopted the philosophies of their coach. Rivers knows that Thibodeau's gruff exterior made it tough for some teams to give him the opportunity to thrive at the helm of his own program.
"He's a great coach, but he's worked at it," Rivers said. "I think he's worked on a lot of things. We talk a lot, and I think you guys know that, he's worked on coaching and he's worked on personality too -- working with people. I told the Chicago [media] this when he got the job: Thibs has the exterior that you think that -- he's a great guy, but you don't see that. I think his players see that. You know what I mean? I think that was part of the reason he wasn't hired [earlier]. Because they thought he was this guy that wouldn't get along with anybody. Thibs just works and he expects everybody else to work as hard as him. Which is impossible."
The conversation then steered to Thibodeau deciding between a pair of job offers during the 2010 NBA Finals and how Rivers implored him to choose Chicago.
"I'll tell you, that was a conversation [Saturday] night [when the two had dinner]," Rivers said. "I remember sitting in the hotel room [between Games 1 and 2 of NBA Finals in Los Angeles] and he had two job [offers]. You can ask him, he was leaning toward [New Orleans] and I actually grabbed him by the shoulders and said, 'Are you kidding me? You get a chance to coach Derrick Rose and you're thinking about another job? Are you freakin' nuts?' And we laugh about it now. [The Hornets] were offering him a longer deal -- and a bigger deal -- and I literally said, 'If it's a penny to go there and $10 million to go to other place, I'm going to the penny.' Because in the long run, you'll be allowed to coach. And you'll be allowed to win, which will allow you to coach more. He made a great choice."
Rivers, who inked a five-year, $35 million extension with the Celtics last summer, helps defray the money Thibodeau lost by taking the less lucrative coaching deal by picking up the tab when the two meet for dinner. He thinks that might change if the Bulls maintain their current level of success.
"I'm still [picking up the tabs] but that will change," Rivers said. "Very soon, I hope."