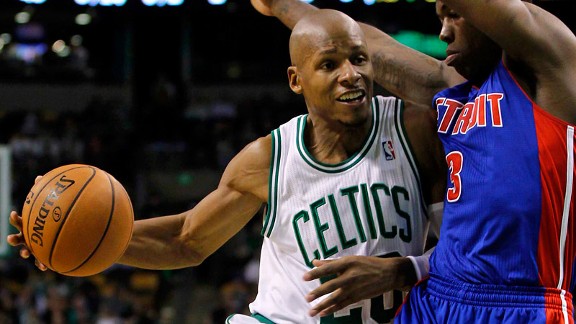 Greg M. Cooper/US Presswire
Ray Allen simply didn't have it Wednesday against the Pistons.BOSTON -- Rapid reaction after the Detroit Pistons defeated the Boston Celtics 98-88 Wednesday night at TD Garden:


HOW THE GAME WAS LOST
Celtics point guard Rajon Rondo scored a career-high 35 points (to go along with six assists and five rebounds), but he and the Celtics went ice-cold in the fourth quarter as the Pistons raced away with a double-digit victory. Chris Wilcox chipped in 17 points on 8-of-12 shooting while starting in place of Kevin Garnett, but didn't score in the fourth quarter. Paul Pierce was a gruesome 3-of-11 overall for 10 points (though he did add five assists and two blocks over 37 minutes) and Ray Allen didn't register his first bucket until a gimme layup in the final seconds. Ben Gordon (12 fourth-quarter points on 4-of-6 shooting beyond the arc) and Greg Monroe (12 third-quarter points on 6-of-6 shooting) sparked the Pistons with 22 points apiece.
RONDO ON FIRE THROUGH THREE
Coming off a triple-double effort, Rondo was brilliant again through three quarters, chipping in 31 points over 31 minutes. He was 14-of-23 shooting from the field, accounting for nearly half of Boston's total buckets (29) through three frames. Four buckets by Rondo in the first 3:24 of the third quarter had Boston out front by six, but the Pistons actually rallied ahead in the final minutes of the frame as Rondo went cold (missing his final two attempts of the frame, and getting no help from his teammates).
TURNING POINT
It was a one-possession game with under nine minutes to go, but Gordon got hot and the Celtics couldn't buy a bucket. A couple Gordon triples and the Pistons were up 87-76 with 7:52 to play. Boston never really threatened a comeback from there.
WHAT IT MEANS
Not the way the Celtics wanted to wrap up the home portion of their pre-All-Star schedule. Celtics not named Rondo were a mere 19-of-50 (38 percent) from the floor overall. What's more, the Celtics missed a whopping 13 free throws (19-of-32). Boston was sloppy all night, but especially in the fourth quarter. Now it must collect itself with the second half of a back-to-back looming Thursday night in Chicago to kick off a five-game road trip.