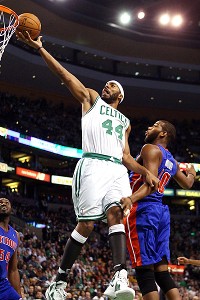 Elsa/Getty Images
Chris Wilcox is making an impact above the rim.BOSTON -- They might not yet connect at quite the rate Tom Brady and Rob Gronkowski do -- as Doc Rivers playfully suggested -- but there's no denying a chemistry is developing between Rajon Rondo and Chris Wilcox, and it's born out of their mutual desire to motor up the floor and create easy baskets in transition.
Starting in place of the injured Kevin Garnett, Wilcox came through with maybe his finest performance of the season on Wednesday night, finishing with a season-high 17 points on 8-of-12 shooting to go along with nine rebounds, as the Celtics stumbled to an unsightly 98-88 loss to the Detroit Pistons. At the heart of Wilcox's most recent standout effort was him appearing either side-by-side or ahead of Rondo in the open court, launching into the air to put down his point guard's lofty passes.
"I love playing with Chris," Rondo said after Wednesday's loss. "He's probably one of the fastest bigs in the league and I tell him to get out there and run with me, and he does a great job every night. We're starting to get easy baskets in transition, and I think that's what we need offensively. Chris has been playing great for us."
"We haven't played much together at all, but these last two games, we picked up a lot of minutes together and we seem to have a little connection going."
It must be something of a revelation for Rondo, arguably Boston's most athletic player, to finally have someone who can keep up with him when he decides to put his head down and race past the defense in the open court. The pair connected early, with Wilcox putting in a dunk off the right block off of a feed from Rondo for Boston's first points of the game. They hooked up against just minutes later, this time on an improbable alley-oop in which Rondo lobbed the ball ahead from nearly halfcourt, and Wilcox, ahead of the defense, skied up, barely corralling the ball in mid-air in time to lay it in.
Plays like those are what made Rivers resort to his Brady-to-Gronk comparison, keeping in mind the sting still felt by crestfallen Patriots fans. Perhaps the most important part of Rondo and Wilcox's blossoming partnership is the sense of trust that's steadily developing.
"I think that [Wilcox] runs the floor and he's in front of everybody, and Rondo has trust that he can throw the ball up to him and he'll go get it," said Rivers. "He makes tough passes, I thought tonight, and Chris caught them -- and finished. It's no different than, Brady and Gronk, I guess -- that's the only one I could come up with, I'm sorry. You get confidence in certain guys running, and there's certain guys that probably can run... I think you know who you're passing to."
Just after the halftime break, the duo was at it again, this time with Rondo aiming towards the left block, and Wilcox rising up, catching the ball, controlling it, and laying it in softly for a two-point Boston advantage at the time. It was the type of pass that Wilcox might have fumbled earlier in the season. He admitted afterward it took some time for him to get used to the slick feeds Rondo is capable of making.
"I know at the beginning of the year I was dropping a lot of his passes, and so practices and things like that just helped me out, helping me be in the right situation at the right times, and his passes that he's throwing now, they're not surprising to me," Wilcox said.
Wilcox's athleticism has been a jolt for this team, as rookie JaJuan Johnson is perhaps the only other big man capable of consistently keeping up with Rondo when he decides it's time to push the pace. The athleticism also helps his overall energy level, which sits as perhaps his greatest strength on the basketball court.
"[Wilcox has] figured it out, I think this is how he should be every day in his career," said Rivers. "I don't think he should be inconsistent. I think this is who he is. It's a talent he has -- energy. For a big, that's a talent. I think it's who he should be every night. I tell him that all the time. I always tell him, he should never be a minimum big in our league, that's gotta come from him, and it is, so I'm really happy with that."
Wilcox's play might not be garnering league-wide attention like some other players, but within his own locker room, he's getting noticed after a slow start. He has the approval and trust of his teammates, as well as the full support of his head coach.
"He's looked good, he's looked really good," said Rivers. "He's just playing hard. We don't have a lot of choices right now, but he's giving us exactly what we hoped he would give us when we signed him: Energy, athleticism, running the floor, finishing at the basket. If he can stay where he's at right now, I'm very happy with that."