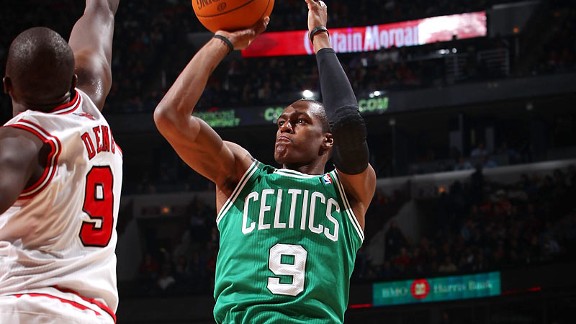 Gary Dineen/NBAE via Getty Images
Rajon Rondo continued to fire away when shots were available Thursday night vs. the Bulls.CHICAGO -- Rapid reaction after the Chicago Bulls defeated the Boston Celtics 89-80 Thursday night at the United Center:


HOW THE GAME WAS WON
After a somewhat quiet performance Sunday in Boston, Bulls swingman Luol Deng proved his All-Star status by connecting on six 3-pointers as part of a 23-point, 10-assist effort to pace Chicago. The Bulls' frontcourt of Carlos Boozer (23 points, 15 rebounds) and Joakim Noah (15 points, 15 rebounds) aided a defensive-minded triumph. The Celtics endured a frighteningly chilly six-minute stretch spanning into the second half wheN the Derrick Rose-less Bulls built a 16-point lead. Rallying out of that hole seemed to take too much out of a weary Boston squad on the second night of a back-to-back. After missing Wednesday's game against the Detroit Pistons, Kevin Garnett returned to chip in a team-high 18 points on 7-of-13 shooting with 10 rebounds. Rajon Rondo added 17 points, eight assists and seven rebounds, but maybe more impressively, committed only one turnover in 44 minutes.
TURNING POINT
After erasing a 16-point, third-quarter deficit, the Celtics rallied ahead in the fourth frame, only to seemingly run out of steam down the stretch. The energy they spent Wednesday night, coupled with having to battle back Thursday, left them with little in the tank. The game was tied at 69 with 8:29 to play when Chicago embarked on a 10-0 run ignited by a Taj Gibson layup and a Deng 3-pointer. Chris Wilcox lost his cool soon after when he didn't get a foul call on a putback attempt, and that turned into a three-point swing after he got hit with a technical.
C'S REALLY HAD NO BUSINESS BEING IN THIS GAME
The Celtics shot a woeful 20 percent (3-of-15) in the second quarter as the Bulls outscored Boston by 15 in the frame to own a nine-point halftime cushion. Things didn't immediately get better for Boston, as Chicago scored the first seven points after the intermission and led by 16. Things could have gotten out of hand quickly, but a driving layup by Paul Pierce helped settle a ship ready to capsize. The Celtics hit 10 of their final 17 shots in the third quarter, trimming their deficit to one point heading to the final period.
PIERCE STARTS FAST THIS TIME
After missing eight of the 11 shots he put up in an offensively anemic performance during Wednesday's loss to the Pistons, Paul Pierce registered three field goals in the first 2:11 of the game, producing Boston's first six points. But Pierce couldn't sustain it. He made just one of his final six field goals of the first half and didn't get to the free-throw line. For the game, Pierce finished with 14 points on 6-of-16 shooting with three assists and two rebounds over 34 minutes.
ALLEN GETS GOING LATER
Ray Allen missed the first seven shots he took in Thursday's game, making him a mere 7-for-29 (24.1 percent) over the past three-plus games. Just when it seemed fair to wonder how bad of a slump Allen was in, he drilled a trio of 3-pointers to close out the third quarter. Allen finished with 12 points on 4-of-13 shooting (3-of-8 beyond the arc) with three rebounds in 36 minutes.
WHAT IT MEANS
Another night, another ride of the Celtics' roller coaster. Boston started fast, faded quickly and should have been buried, only to mount an improbable rally and falter down the stretch. Blame whatever you want: injuries (KG toughed out 31 minutes), the schedule (second night of a back-to-back and start of a five-game road trip), lapses in production. On the heels of consecutive games, Boston will remain in Chicago for two more days, taking Friday off before practicing in the area on Saturday. The team then treks to Detroit looking to avenge Wednesday's loss to the Pistons on Sunday night (another back end of a back-to-back looming Monday in Dallas before a trip to Oklahoma City to wrap up the first half of the season).