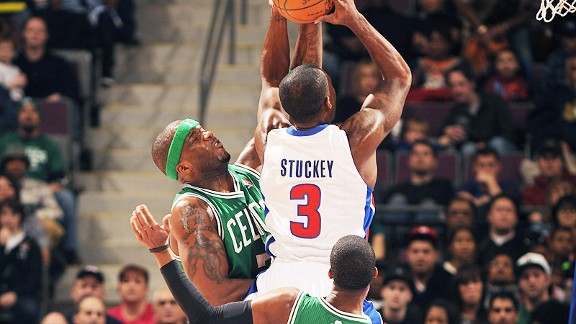 Dan Lippitt/NBAE/Getty Images
Despite a solid effort from Jermaine O'Neal, the Celtics fell again to the Pistons.Rapid reaction after the Detroit Pistons defeated the Boston Celtics 96-81 Sunday evening at The Palace of Auburn Hills.


HOW THE GAME WAS LOST
The Celtics entered Sunday's game with a 7-1 record this season when holding teams below 39 percent shooting. The Pistons were a mere 31-of-82 from the field (37.8 percent), but shot a whopping 46 free throws -- missing more freebies (17) than Boston attempted (15). The Celtics also gave the ball away 24 times for 40 points off turnovers, gifting the Pistons a second win over them this week and running the Celtics' current losing streak to three games (and five of their last six). Paul Pierce scored a team-high 18 points over 34 minutes, while Jermaine O'Neal chipped in 8 points, 11 rebounds and 5 blocks over 26:47. Greg Monroe paced five Pistons in double figures with 17 points (to go along with 10 rebounds).
TURNING POINT
The Celtics, who trailed by 13 at intermission after giving up a 29-point second quarter, clawed within five midway through the third frame, but things went south quickly. Boston went nearly six minutes without a bucket and, amidst that dry spell, Rajon Rondo got ejected from the game. The Pistons went on a 12-0 run during Boston's scoreless stretch, opening a 71-54 lead before Ray Allen finally ended the drought with a 3-pointer with 93 seconds to go in the quarter.
RONDO FLIPS BALL, GETS TOSSED
Rondo earned a double technical after flipping the ball off an official while arguing the lack of a foul call during the third quarter. Read more HERE, but it's likely Rondo with face further discipline from the league (fine and/or suspension).
STIEMSMA'S FIRST DUNK
Rookie Greg Stiemsma threw down a two-handed jam late in the first quarter off a nice feed from Keyon Dooling. It was the big man's first dunk of his NBA career. Entering Sunday's game, Brandon Bass led the team with 21 dunks, while Chris Wilcox and Jermaine O'Neal each with 18 behind him.
RIVERS, WILCOX T'D UP TOO
Rondo wasn't the only one getting a technical on this night. Celtics coach Doc Rivers earned one for arguing the lack of a whistle for an illegal screen (one of three that could have been called on the play) before a Damien Wilkins 3-pointer put the Pistons out front, 38-29, with 6:49 to go in the first half. Rivers barked at the officials (an incredulous Rivers telling the referee, "You're looking right at it!"). With five technicals this season, Rivers is among the leaders of NBA coaches. Chris Wilcox, who voiced his frustration after picking up his fourth foul of the first half, got tagged with his second tech in as many games. Just a sign of the frustration on this night.
WHAT IT MEANS
Well, that was ugly. Yes, the Celtics were playing without Kevin Garnett and Brandon Bass -- and lost Rondo for the final 15 minutes -- but this one was inexcusable. The whistles went against Boston early and the team lost its cool. Boston ruined an otherwise solid defensive effort by hacking at everything in sight and you're simply not going to win any games when you give the opposing team 46 free throw attempts (not to mention coupling that with 40 points off 24 turnovers). No rest for the weary -- Boston takes a three-game losing streak to Dallas for the tail end of a back-to-back Monday against the Mavericks. The All-Star break can't arrive soon enough for this team that needs to get healthy and get its head right.