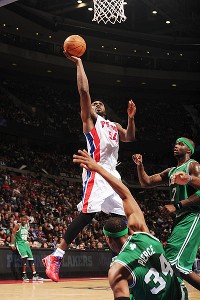 Dan Lippitt/NBAE/Getty Images
Paul Pierce and the Celtics are staggering after three straight losses.Man......
Utilizing just nine of the available 140 characters in a postgame tweet, second-year guard Avery Bradley succinctly summed up things at the moment for the Boston Celtics, who dropped their third straight and fifth in six tries on Sunday night with a cringe-worthy 96-81 loss to the Detroit Pistons at The Palace of Auburn Hills.
The suddenly .500 Celtics were in desperate need of a win, especially after gifting Detroit a victory four days earlier in Boston because of their aversion to defensive rebounding. This time around, the Celtics compounded recent frustrations by matching a season-high for turnovers (24) while donating 40 points off giveaways, all while allowing the Pistons to shoot a ridiculous 46 free throw attempts (the third highest total in the Big Three era -- Denver shot a whopping 49 four years ago to the day).
Frustration peaked for the Celtics when an exasperated Rajon Rondo zipped the ball off an official while protesting a non-call late in the third quarter as the Pistons ran away with the game. Rondo was assessed two technical fouls and ejected, leaving his teammates to mop up a game in which the Pistons shot a mere 37.8 percent from the floor (31-of-82), but still won by double digits because of Boston's miscues.
"When you think about just the shooting numbers you would say, 'Your defense was great,'" Celtics coach Doc Rivers told reporters in Detroit. "But we were turning the ball over, we gave up offensive rebounds, and we fouled every possession. I think [the Pistons] had 19 more free throws than us at halftime, plus [11] more field goal attempts. The fact that we were only down 13 was a miracle, we should have been down by 40."
The Celtics played without Kevin Garnett (family issue) and Brandon Bass (knee), but it might not have mattered. The Pistons shot a ridiculous 29 first-half free throws and, even though they missed 12 of them -- along with 26 of the 43 shots they put up -- Detroit still owned a 55-42 halftime advantage because Boston couldn't get out of its own way. When the Celtics weren't committing 13 first-half turnovers (leading to 22 points), they went stagnant on offense, rarely attacking the rim, and settling for contested jumpers with the Pistons swarming Ray Allen and Paul Pierce.
Boston made one charge in the third quarter, closing within five midway through the frame, but then endured a six-minute scoreless streak as the Pistons built a 17-point cushion. Rondo's ejection in the middle of that drought summed up the Celtics' frustration level, both with the referee's whistles (Chris Wilcox and Rivers both had first-half technicals) and their own inability to put the ball in the basket.
With two off-days before Sunday's game, including a two-hour practice on Saturday in Chicago, that sort of effort is inexcusable. But the Celtics are in no position to sit around lamenting what went wrong. Boston endures a tough turnaround, having to play Monday in Dallas against the defending world champs. As the recent losses to the Pistons have shown, this team simply can't show up and expect to beat opponents, let alone a veteran squad like Dallas.
But for all that ails the Celtics at the moment, Bradley offered maybe the most immediate of solutions with another postgame tweet: Let's get the next one. In this crazy season, that's all Boston can strive for and hope the kinks work themselves out over the long haul.
It's clear nothing is going to be easy, and Boston isn't exactly making things easy on itself.
A handful of other quick-hit observations following the loss in Detroit:
* RONDO'S GOTTA KNOW BETTER: Rondo already owned a team-high five technical fouls coming into Sunday's game (and will shuffle a little closer to good friend Kendrick Perkins atop the tech leaderboard). But there's a line between barking at officials for a lack of calls and zipping the ball at an official out of frustration. Rondo, it would seem, will almost certainly earn a suspension for his act and face a stiff fine -- none of which is going to change the free throw disparity in Sunday's game. Rondo needs to channel that frustration and use it toward attacking the rim. That's the only way the whistles were going to even up.
* NO COMPLAINTS FROM RIVERS: Kudos to Rivers for recognizing that the refs weren't entirely to blame for this loss (even if they didn't help matters). Rivers could have easily sounded off about the lack of calls for Boston, but he simply said, "I thought Paul [Pierce] got bumped a ton, but, listen, the officials are human too. I think you can clearly see one team had a better spirit tonight."
* NO POP IN OFFENSE WITHOUT KG & BASS: Rivers admitted it's on him to find a way to keep Boston's offense from betting bottled up when Garnett and Bass are not available. For the second straight game against the Pistons -- both without those key frontcourt players -- the Pistons trapped Allen (5-for-11, 13 points) and Pierce (6-for-11, 18 points), making it difficult for them to get easy looks. Detroit also clogged up the lane, knowing Boston's bigs couldn't consistently beat them from the outside, and Boston mustered only 20 points in the paint on 10-of-23 shooting.
* O'NEAL'S NIGHT SPOILED: Jermaine O'Neal brought an inspired effort with Boston's frontcourt depleted, chipping in 8 points, 11 rebounds and 5 blocks over 26:47. O'Neal provided a little offensive spark early, but the Celtics couldn't maintain it (Boston scored 26 first-quarter points while shooting 64.7 percent from the floor, then shot 38.2 percent the rest of the way).
* QUICK HITS: It's officially a slump for Mickael Pietrus, who has missed his last 10 attempts from beyond the 3-point arc over three games. He was 0-for-4 from the floor overall on Sunday in a scoreless effort (though he did have a nice block). ... The Celtics need more out of Keyon Dooling, who missed three of the four shots he took over 14:28. ... Take away Greg Stiemsma's six rebounds over 15 minutes and Boston's seven remaining bench players mustered a mere five rebounds over a combined 72 minutes of floor time. ... Boston allowed 16 offensive rebounds, which Detroit turned into 29 second-chance points. The Celtics, meanwhile, had just six second-chance points off eight offensive boards.