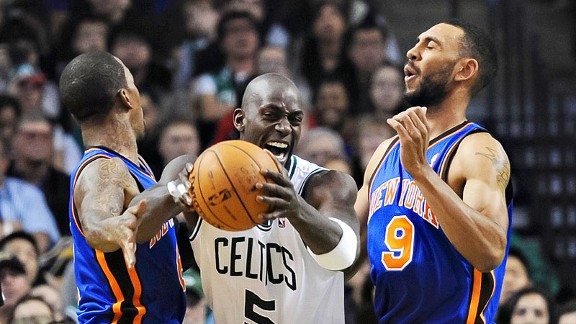 Bob DeChiara/US Presswire
Kevin Garnett battles for space during Sunday's game against the Knicks. BOSTON -- Rapid reaction after the Boston Celtics defeated the New York Knicks 115-111 in overtime Sunday afternoon at TD Garden:


HOW THE GAME WAS WON
Rajon Rondo produced the 17th triple-double of his career in posting 18 points, 17 rebounds and 20 assists, while Paul Pierce added a game-high 34 points on 13-of-23 shooting with 7 rebounds, 3 assists, 2 steals and a block. Kevin Garnett struggled with his shot (8-for-22), but added 18 points and 10 rebounds (navigating overtime with five fouls to aid Boston's defensive effort). Carmelo Anthony finished with a team-high 25 points on 8-of-21 shooting for the Knicks.
RONDO MESSES AROUND ... AGAIN
Rondo picked up his 17th career triple-double, including his fourth of the season and third in the past 21 days. As Celtics radio play-by-play man Sean Grande pointed out, this is the 13th triple-double for Rondo on national TV. With all the hype around him in recent days -- and Jeremy Lin on the other side of the floor -- you just knew Rondo was going to bring his A-game. He did it in rather ridiculous fashion, including those game-high 17 rebounds.
LIN HEATS UP LATE
Entering the fourth quarter, Lin owned a mere six points on 3-of-7 shooting with two assists, but aided the Knicks in forcing the extra session. He finished with 14 points on 6-of-16 shooting with five assists and six turnovers. But on this day, the point guard battle belonged to Rondo.
TURNING POINT I
The Celtics stumbled their way through an unsightly second quarter, falling behind by 12 before a little rally before intermission cut the deficit to five (56-51). The Celtics had to be thrilled to stick that close and capitalized with a spirited third frame. After knotting the game at 60 little more than three minutes into the second half, Boston embarked on a 20-5 run, featuring easy buckets around the rim from Rondo, Pierce and Chris Wilcox. A trifecta by Pierce and a fast-break layup by Wilcox (off a Pierce outlet) put the Celtics on top 80-65 with 92 seconds to go in the quarter. Pierce scored 15 points in the quarter on 5-of-8 shooting, while Rondo handed out seven assists and snagged five rebounds. That should have been enough, but ...
TURNING POINT II
The Knicks rallied late to make it a game setting up a back-and-forth duel between Pierce and Anthony over the final two minutes. A Pierce jumper had the Celtics out front 98-95 with 1:51 to play, but Anthony responded with a pair of layups, including a little finger roll to put the Knicks ahead 99-98 with 70 seconds to go. Pierce made a long jumper, only to have Anthony answer with a pull-up of his own in a late shot clock situation. Pierce tried to get back to his sweet spot, but couldn't quite get to the elbow, settling for a long jumper that found the rim with 18.8 seconds to go. He'd get another shot, however, and drilled a 3-pointer over Iman Shumpert from the top of the arc to tie the game at 103. Anthony found back iron on a jumper at the buzzer, which sent the game to overtime and leading us to ...
BOLD PLAY OF THE GAME
Ray Allen, who missed Friday's win over the Nets while battling a stomach bug, had been limited to seven points on 2-of-7 shooting during regulation, but didn't let the norovirus detour him when it mattered most. Running with Rondo, Allen drilled a 3-pointer from the right wing to put Boston out front 108-105 with 3:32 to go in overtime. Allen ran with Rondo again when the point guard tracked down a long rebound, leading to an easy layup and a five-point cushion that Boston rode to the win.
WHAT IT MEANS
It should have been easier, but the Celtics will take a gritty win. Pierce saved the day with his top-of-the-key triple at the end of regulation and really carried the team with his offense for much of the day (working hand-in-hand with Rondo). Boston has won four straight, but this was the marquee victory of the bunch, holding off an Atlantic Division rival and a team they are jockeying with at the bottom of the Eastern Conference playoff seedings.