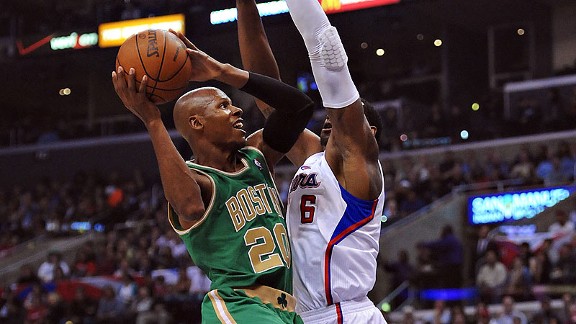 Jayne Kamin-Oncea/US Presswire
Ray Allen drives at DeAndre Jordan during Monday's game against the Clippers.LOS ANGELES -- Rapid reaction after the Boston Celtics defeated the Los Angeles Clippers 94-85 Monday night at the Staples Center:


HOW THE GAME WAS WON
Celtics captain Paul Pierce shrugged off some early shooting woes to chip in a game-high 25 points on 7-of-16 shooting with seven assists and three rebounds over a manageable 31 minutes to pace Boston. Pierce was a whopping plus-19 during his time on the court. Kevin Garnett added 21 points and eight rebounds while sprinting past his 30-minute limit (he played 34). The Rajon Rondo vs. Chris Paul matchup didn't quite live up to the hype, but Rondo (despite a missed layup late that could have made the final moments a bit easier on Boston's collective stomach) ultimately won the battle by chipping in 12 points, 10 assists, 3 steals and 2 rebounds over 41 minutes. Paul finished with 14 points, 5 assists and 4 rebounds over 40 minutes. Blake Griffin led the Clippers with 24 points, while Mo Williams chipped in 21 off the pine.
TURNING POINT
The Clippers used a dominant second quarter on the glass to turn a 7-point deficit into a 9-point halftime lead. Unfazed, Boston opened the second half on a 19-4 run, which featured the Celtics scoring 15 of the third quarter's first 17 points to retake the lead. Pierce and Garnett each had a pair of buckets (and Brandon Bass added a tip-in) to aid the initial burst, but it only led to the ...
BOLD PLAY OF THE GAME
Whodathunk Boston would upstage Lob City on its own turf? But that's exactly what happened. After a frustrating stretch in which Boston couldn't get a bucket to pull ahead, Rondo spotted Bass ahead on the break and delivered a lob for a jam and a 51-50 lead with 6:41 to play in the third quarter. Ray Allen added a 3-pointer soon after and Boston's lead quickly ballooned to six with four minutes to play in the quarter.
TURNING POINT II
Even with the surge, the Celtics weren't out of the woods. Boston was up 10 with 8:50 to play when the Clippers embarked on a 17-3 run capped by a Bobby Simmons 3-pointer for a 78-74 advantage with 4:24 to go. Even with Bass out of the game (see below), Boston fired back with a brilliant four-possession stretch. Garnett and Rondo made layups to tie the game and Pierce got fouled in the post before adding two freebies to put Boston out front again. Pierce added a 3-pointer with 2:47 to go to put Boston up five (and unlike Sunday vs. the Lakers, they'd hang on down the stretch).
ALLEN TWEAKS ANKLE ... BUT RETURNS
With the Celtics clinging to a five-point lead, Allen hobbled off after appearing to turn an ankle (or worse) as Griffin produced a putback to make it a one-possession game with less than a minute to go. It took just a couple of minutes before Allen was back on the sideline lobbying to go back in, and Doc Rivers obliged for the final seconds.
TECHNICALLY SPEAKING
Referees handed out five first-half technicals as the game got a little chippy at times -- and the referees didn't aid their cause with some questionable whistles. Griffin and Greg Stiemsma got a double tech for throwing the ball at each other after a whistle, while DeAndre Jordan and Garnett got an unnecessary double tech for a little bump as Garnett went for a post-whistle dunk attempt.
EARLY EXIT FOR BASS
Bass, who battled foul trouble all game, fouled out with 4:57 to go. Griffin made both free throws to put the Clippers out front, 75-74. The subtraction forced already undersized Boston to go small the rest of the way, operating with a lineup that put Mickael Pietrus next to the Big Four.
WHAT IT MEANS
The Celtics entered the game 0-6 on the second night of back-to-backs on the road this season and even though they didn't have to travel for this one, it was still a daunting game coming off a war with the rival Lakers on Sunday afternoon. Four more road-closing back-to-backs loom this season (including two more on this eight-game road trip), but the Celtics showed some grit pulling this one out. Boston now treks north for games against Golden State and Sacramento with Thursday's trade deadline tucked in between.