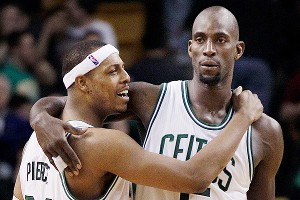 AP Photo/Elise Amendola
Paul Pierce and Kevin Garnett see a big value in coming together, instead of being broken apart, at this time of year.Amid trade talk and rebuilding rumors, the Boston Celtics are using an important road trip to bond closer together:
The focus of the team as this road trip shuffled up to San Francisco on Tuesday afternoon wasn't necessarily how it could be broken apart by Thursday's deadline. Instead, the team is putting a greater value on coming together as a group during this season-long eight-game trip.

"I think you find yourself on the road," said Rivers. "I think teams do most of the time. It's tough to find yourself at home -- you're with your wife and your kids. But when you get on the road, you're out there with each other. I do think it's a good way of getting to know each other."

Echoed Ray Allen: "The road can be very unkind to you, but it can also be very special because you spend time together more with each other. Now, we don't go back to our families, we go back and hang around each other. Those are moments to grow."

The Celtics were left frustrated by Sunday's loss to the Lakers, letting a five-point lead slip away in the final three minutes. On Monday night, they slammed the door on the Clippers. After the win, Brandon Bass declared that this was "the new start to the road trip."

Echoed Paul Pierce: "Right now it's about gathering some momentum... we marked this trip on our calendar, it's a big two weeks for us. We gotta take this trip somewhere and [Monday night] was the start."
Hop HERE to read the full story.