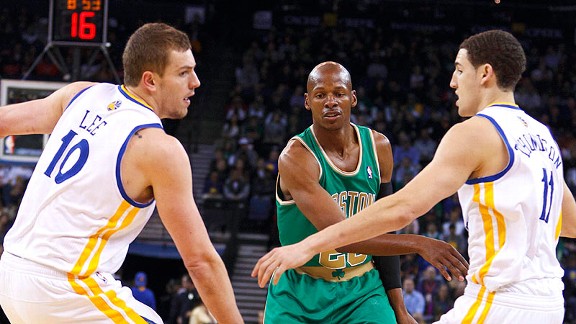 Jason O. Watson/US Presswire
Ray Allen zips a pass through a pair of Golden State defenders Thursday at Oracle Arena.OAKLAND, Calif. -- Rapid reaction after the Boston Celtics defeated the Golden State Warriors 105-103 Wednesday night at Oracle Arena:


HOW THE GAME WAS WON
Kevin Garnett scored a team-high 24 points on 11-of-15 shooting, delivering the game-winning bucket in the closing seconds, while adding seven rebounds and five assists over 34 minutes. Brandon Bass added 22 points and nine rebounds, while swingmen Mickael Pietrus (5-of-6 beyond the arc) and Paul Pierce kicked in 15 points apiece for the Celtics. Klay Thompson had a game-high 26 points while David Lee added 22 points and eight boards for the Warriors.
TURNING POINT
The pesky Warriors -- fueled by old friend Nate Robinson no less -- hung around all night and tied the game on Robinson's driving finger roll with 30 seconds to go. The Celtics took the clock all the way down on the ensuing possession before a driving Pierce kicked it out to Garnett for his trademark 19-footer to produce the winner with 5.1 seconds to go. Robinson, who finished with 20 points, 11 assists and 5 rebounds over 36 minutes, missed the potential winning 3-pointer in the closing moments.
BOLD PLAY OF THE GAME
Greg Stiemsma put together a rock-solid evening, chipping in eight points and eight rebounds over 16 quality minutes. He got some of each when he followed a Pierce miss with an emphatic two-handed putback jam to close out the third quarter, sending Boston into the final frame up four.
WHAT IT MEANS
Nothing comes easy in Oakland for the Celtics (who were a mere 4-12 here in their previous 16 visits). The short-handed Warriors showcased their offensive talents a day after shipping out Monta Ellis and playing without birthday boy Steph Curry. The Celtics didn't want a shootout, but they still managed to win one. Boston is now 8-2 since the All-Star break, playing some inspired ball that should keep things (potentially) quiet with Thursday's 3 p.m. trade deadline looming. The Celtics got contributions from a lot of players and continue to show they are making progress in the second half of the season.