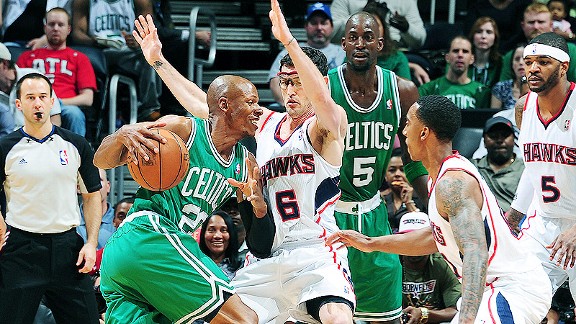 Scott Cunningham/NBAE/ Getty Images
Defense carried the day as the Celtics and Hawks battled Monday night in Atlanta.Rapid reaction after the Boston Celtics defeated the Atlanta Hawks 79-76 Monday night at Philips Arena:


HOW THE GAME WAS WON
Ray Allen scored eight of his team-high 19 points in the fourth quarter, sparking a Boston offense that sloshed through the first three quarters of an often-cringeworthy game, then held off a late charge by the Hawks. Rajon Rondo chipped in 10 points and 13 assists, while Brandon Bass added 8 points and 10 rebounds. Boston shot a mere 29 of 74 (39.2 percent) from the floor, but the Hawks were one shot worse (29 of 75, 38.7 percent) as Jeff Teague airballed a 3-pointer with a chance to tie the game in the final seconds. Joe Johnson finished with a game-high 25 points for the Hawks.
TURNING POINT
The Celtics rallied ahead early in the fourth quarter, but were nursing a 2-point lead with less than seven minutes to play when their offense (finally) showed up from the other side of the country. Rondo drove for a layup (arcing it high off the glass) and Bass followed with a jumper before Allen (two) and Mickael Pietrus canned a trio of triples to cap a 13-0 burst that put the Celtics on top 73-58 with 4:28 to go.
BOLD PLAY OF THE GAME
Right before Boston produced its offensive explosion, the team lit the fuse with a pair of tremendous inbounds plays that allowed it to jump out front. Inbounding with only 1.2 seconds to play in the third quarter, Rondo managed to deke the defense by faking to Kevin Garnett before feeding Allen for a 3-pointer to close the frame (and trim Boston's deficit to 1). Early in the fourth quarter, Paul Pierce zipped a long inbounds feed to a cutting Pietrus in the paint for a dunk and a 52-51 advantage with 10:47 to play. Without those, Boston might have never caught fire.
COLD PLAY OF THE GAME
The teams combined to miss more shots (28) than they scored combined points (27) in the first quarter (Atlanta led 15-12). Things got only marginally better over the next two quarters as neither team topped 19 points in a quarter through the first three. Entering the fourth frame, the Celtics and Hawks were a combined 39 of 109 (35.8 percent) shooting, leaving most of the media thumbing through record books for offensive futility.
YOU DON'T WANT TO MAKE RAY ANGRY
Tempers flared a bit in the third quarter. Bass got a flagrant-1 for a hard foul on Zaza Pachulia, and Allen and Josh Smith had a little dust-up. But it was Teague who might have stirred the Celtics when he got a technical for being a little too emphatic after a highlight-worthy jam over Allen. The Hawks were up 8 at that point -- quite a cushion in an ugly game -- but Boston embarked on a 34-11 run from that point, highlighted, of course, by Allen's triples to open a double-digit cushion. After the game, speaking on the Celtics' radio broadcast, Allen admitted Teague's taunting "pissed me off."
WHAT IT MEANS
As Celtics radio play-by-play man Sean Grande pointed out, the Celtics had been 0-23 in games in which they scored fewer than 80 points during the Big Three era before this win. Clearly this one wasn't pretty, but it's a win. And for a Boston team that had lost two in a row on this eight-game road trip, they'll take it, especially when it comes against an Eastern Conference rival that sits in front of it in the playoff seedings. That said, expect Doc Rivers to burn the tape of this one. You can try to convince yourself it was good defense, but the first half was a lot of bad offense. Yes, it was ugly and should never be spoken of again.