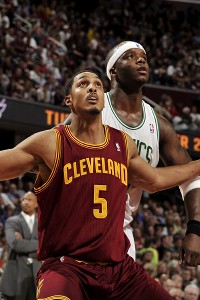 David Liam Kyle/NBAE/Getty
The Celtics are hoping Ryan Hollins (5) can help replace Jermaine O'Neal up front.Celtics president of basketball operations Danny Ainge said Thursday that he's in talks with the agent for recently released center Ryan Hollins and all indications point to the 27-year-old 7-footer officially joining Boston as early as this evening.
During his weekly radio appearance on Boston sports radio WEEI (93.7 FM), Ainge said Hollins came highly recommended by both Paul Pierce and Kevin Garnett, who worked out with the Los Angeles-area native this summer during the lockout.
In order to add Hollins, the Celtics must make a roster move with the team currently at the 15-man roster limit. With Chris Wilcox (cardiac issue) and Jermaine O'Neal (wrist) out for the remainder of the season, both are candidates to be bought out in order to free a roster spot.
Some thoughts on what Hollins can bring to Boston:
* If Boston's goal was to secure a legit big man, they'll get that in Hollins. It might not always manifest itself in production on the court, but coaches love to remind us that you can't teach size. Now it's up to Boston to figure out how to get the most out of him.
* Offensively, the Celtics will have to figure out a way to get him going toward the basket. He thrives in the pick-and-roll and off putbacks. It seems like when he's on the floor, he should be setting high screens for Rajon Rondo and Boston's ball-handlers, then attacking the basket. His transition numbers are not great this season in limited playing time with Cleveland, but he did thrive running the floor during his best NBA season, with Minnesota in 2010. Just don't expect much from him away from the basket.
* His size makes him a factor on the defensive end -- just maybe not the way you'd expect. Thicker centers can try to outmuscle Hollins, but his length and athleticism allow him to contest shots and hold his own in the pick-and-roll. The caveat, of course, is that his rebounding numbers are downright atrocious. It's somewhat baffling that a player with his size and hops fails to haul in more boards. Certainly playing alongside a ball of energy like Anderson Varejao is going to limit the available caroms, but the Celtics have to hope that some of Varejao rubbed off on Hollins during his time with the Cavs.
* It will be interesting to see how coach Doc Rivers distributes minutes. Rookie center Greg Stiemsma is showing steady development and the team won't want to stunt that considering he's an option for the future. But he's also nursing a lingering right foot injury, and some additional rest might not be the worst thing for him. The question is whether Hollins -- and anyone else the team brings in -- can pick up the playbook quickly enough to gain Rivers' confidence. As we've stressed all along, the Celtics just need a big body to eat minutes, so it's likely Hollins will get tossed into the fire and his level of play will determine how much floor time he nets over the final 20 games of the season.
* Hop HERE to read our initial scouting report on Hollins after he was released earlier this week.
* Hollins isn't afraid of a dust-up. Charlie Villanueva earned a five-game suspension from the NBA for trying to get into the Cavs' locker room after a game last year to confront Hollins. Two seasons ago, Hollins earned a two-game suspension of his own for punching DeShawn Stevenson and hitting Dirk Nowitzki in the head during a game against the Mavericks.
* Comcast SportsNet TV sideline reporter Greg Dickerson tweeted earlier that Hollins could join the Celtics in time for Friday's game in Philadelphia. He also noted that the Celtics made a push, but were unable to land big man Boris Diaw.