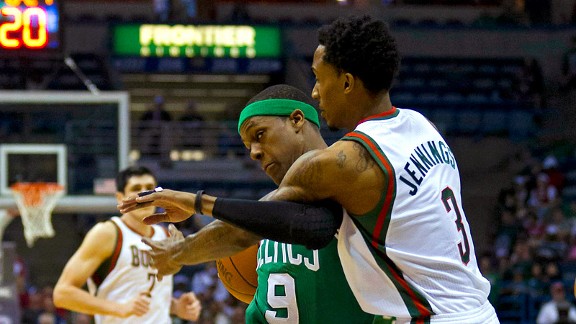 Jeff Hanisch/US Presswire
Brandon Jennings did all he could to keep Rajon Rondo tied up.Rapid reaction after the Boston Celtics defeated the Milwaukee Bucks 100-91 Thursday night at the Bradley Center:


HOW THE GAME WAS WON
Paul Pierce scored a team-high 25 points on 10-of-15 shooting -- passing Clyde Drexler for 26th place on the NBA's all-time scoring list -- and pacing Boston's offensive outburst, which included a 35-point first quarter (matching a season high). Brandon Bass (12 points, 10 rebounds), Kevin Garnett (16 points, 10 rebounds), and Rajon Rondo (10 points, 14 assists) added double-doubles, while the team got a spark from the second unit, including a pair of players with Milwaukee ties in Greg Stiemsma (6 points, 5 blocks, 4 steals, 4 rebounds, 3 assists) and Keyon Dooling (8 points on 4-of-4 shooting). Brandon Jennings scored a team-high 19 points for the Bucks.
TURNING POINT
Starting the fourth quarter with a reserve-heavy lineup and clinging to a one-point lead, the Celtics embarked on a little 8-0 run that featured four straight layups (including an up-and-under by Stiemsma, a pair from Mickael Pietrus, and another from Dooling) and helped Boston open a 82-73 cushion with 8:42 to play.
BOLD PLAY OF THE GAME
We've been spoiled by some of Rajon Rondo's ridiculous behind-the-back feeds lately and he produced another gem midway through the second quarter in Milwaukee. Coming off a pick on the right wing, Rondo charged hard at the basket, splitting two defenders and drawing a third in the paint, before delivering a behind-the-back bounce pass to Bass for a two-handed slam.
BOLD PLAY OF THE GAME (THAT DIDN'T COUNT)
The Celtics had already poured in 35 points in the first quarter, so it was hard to complain, but Rondo splashed a midcourt heave just after the buzzer. For a Boston team that shot 57.7 percent (15 of 26) in the first frame, it was a symbol of how easily shots were falling.
STIEMSMA'S HOMECOMING
Stiemsma absolutely filled up his stat line over 24 minutes. Despite playing through foul trouble, he was super aggressive defensively as his five blocks reflect. With a crowd dotted with "Stiemsma Crew" and replica No. 54 jersey T-shirts, it was about as good of a homecoming as Stiemsma could have envisioned. And the President of the Village of Randolph -- his nearby hometown -- proclaimed it Greg Stiemsma Day (more on that later) after the game.
WHAT IT MEANS
The Celtics snapped the surging Bucks' six-game winning streak and pushed them four games back in trying to catch the Celtics for a final playoff spot (what's more, Boston now owns the tie-breaker over Milwaukee). Now, Boston heads to Philadelphia for the second night of a back-to-back -- the final stop on this marathon eight-game road trip -- but energized by a chance to leap into first place in the Atlantic Division (a spot that guarantees the division champ at least a top 4 seed in the Eastern Conference). Boston came out inspired like a team that had two days of rest, but now it's gotta find that same energy to go up against a rested 76ers team -- and one that throttled it earlier this month in Philadelphia.