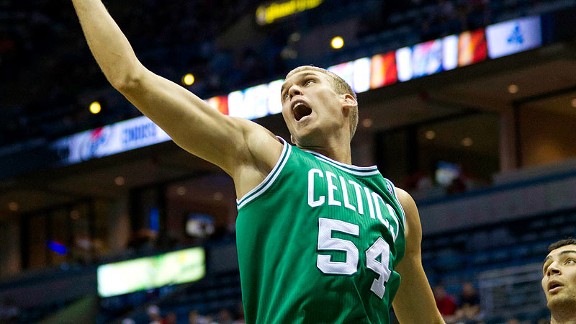 Jeff Hanisch/US Presswire
Greg Stiemsma made the most of his homecoming Thursday in Milwaukee.His pro basketball excursions have taken him to such outposts as South Korea, South Dakota, and Turkey. Along the way, he had NBA flirtations with Minnesota and Cleveland, but his first real opportunity didn't arrive until this past December in Boston. Finally, after nearly four years on the move, Greg Stiemsma's basketball journey took him home on Thursday night.
Playing at Milwaukee's Bradley Center, 80 miles southeast of his hometown of Randolph, Wis., a tiny village of less than 2,000 people (most of whom seemed to be in attendance), Stiemsma helped the Celtics to a 100-91 triumph over the Bucks.
Stiemsma made the most of the night, chipping in 6 points, 5 blocks, 4 steals, 4 rebounds and 3 assists over a bench-high 24 minutes. Despite playing much of the night in foul trouble, he remained aggressive on defense, swatting three shots in the second half, all in an eight-minute span early in the fourth quarter during which Boston essentially put the game away while riding its second unit.
Celtics coach Doc Rivers gushed that Stiemsma has been "fantastic" and noted how a right foot ailment has prevented the 26-year-old from doing much of anything during offday workouts (he's often been spotted wearing a walking boot to prevent the injury from flaring up). But with the Celtics facing a shortage of bodies up front, especially on this road trip, Stiemsma has gutted through and his production has increased.
On Thursday night, he seemed to have an extra bounce in his step. And why not? Every shot of the crowd seemed to show friends and family wearing his replica No. 54 jersey or sporting these T-shirts (CSN Screenshot):
Yes, about the only downer on this day was that Stiemsma's University of Wisconsin Badgers fell to Syracuse 64-63 in the Sweet 16 of the NCAA tournament (ironically, in Stiemsma's new backyard at TD Garden). But if he got that bad news after the Celtics' win, it was probably overshadowed by a pretty cool postgame moment.
Linda Vanderploeg, the village president of Randolph, presented Stiemsma with an official document proclaiming March 22, 2012 as "Greg Stiemsma Day" in his hometown. For a player who has overcome so much adversity in his career, the celebration of his NBA homecoming had to resonate.
A look at the official document: