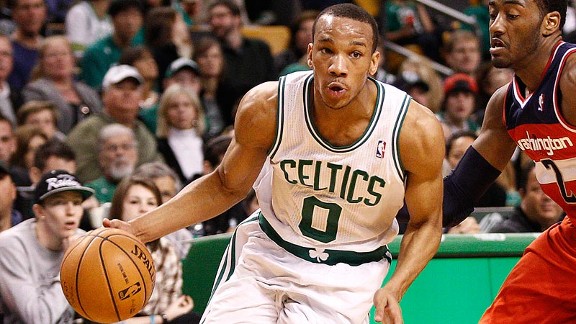 Mark L. Baer/US Presswire
Avery Bradley got the better of John Wall and the Wizards on Sunday.BOSTON -- For Doc Rivers, the best part of Avery Bradley's offensive development is the vindication.
Even when Bradley's shooting woes were downright unsightly earlier this season, Rivers staunchly defended the second-year guard's ability to make jumper. In fact, back in late January, with Bradley really struggling from the perimeter, Rivers declared, "At some point, a ball will go in, he'll slow down, and he'll make the in-between jump shot. Because that's what he can make and he can make that consistently."
Forgive reporters if they scoffed. Bradley to that point in his career was a mere 17-for-81 shooting from beyond 10 feet (21 percent) over his first 48 NBA games, according to shot location info tracked by HoopData. Since then? Bradley is 31-for-63 shooting from beyond 10 feet (49.2 percent), a ridiculous clip considering teammate Ray Allen, whose spot he took in the starting lineup on Sunday, is shooting 42.7 from that same range this season.
Aided by his improving jump shot, Bradley poured in a career-high 23 points on 9-of-13 shooting during Sunday's breezy 88-76 triumph over the Washington Wizards. Playing the off-the-ball spot, he made eight of the nine shots he hoisted during the first half while sparking Boston to as much as a 25-point cushion.
Go ahead, Doc, take a bow.
"One of the things I've said consistently all year is that he can shoot the ball and he was making me a liar for most of the year," said Rivers. "It was great to see them go in. I thought there was a point that it was clearly confidence, because you see him in practice and he makes them, then he gets in the game and he just needed one to fall."
Bradley entered Sunday's game as a question mark, hobbling a bit as he navigated the locker room in Philadelphia after spraining the left ankle that made him unable to return in the second half of a loss to the 76ers on Friday night. With Allen nursing a bum ankle of his own, Bradley didn't just play, he got thrust into the starting lineup and produced his finest offensive game as a pro.
Bradley made all seven shots he took in the first quarter, including only the third 3-pointer of his career (No. 2 had come two nights earlier in Philly), and single-handedly outscored the Wizards with Boston on top 27-12 thanks to his 15 points after one frame. Teammates fed off his energy and pushed the lead to as high as 25 before the intermission and coasted from there.
Bradley acknowledges his confidence has grown this season as shots have started to fall.
"It's all about confidence," he said. "Sometimes I would go into the game thinking twice about shooting. Now, if I'm open, I'm open -- I'll shoot it. And I've been making them."
His teammates showered him with praise after the game, especially on a night that both Allen and backup shooting guard Mickael Pietrus (concussion) were unavailable.
"We know he can play the position," said Pierce, who overcame some early shooting woes of his own to chip in 21 points. "He's just gaining more and more confidence as the year goes on, with his shot and his ability just to play out there with any lineup at the 1 or the 2. It was good to see."
Added Kevin Garnett: "I thought he was aggressive. We encourage him to be aggressive often. I thought at the same time, he took shots that were there for him. I don't think he did anything that was out of the offense or out of the ordinary. And he played solid. He played very, very solid for us."
Bradley has thrived in part because of his ability to get to the rim, which leads to easy buckets and has given him additional confidence in his outside shot. Even still, hitting a mid-range jumper in the opening moments of Sunday's game is what lit his fuse and then he was off to the races with five of his next six makes coming at the rim.
Leave it to Wizards interim coach Randy Wittman to try to throw some water on his big day.
"I could have scored those layups," said Wittman. "I am being serious. We didn't have anybody guarding him. When I was a player, if you gave me four layups o start the game, I'd have a pretty good groove on to make some jump shots. He ought to send us a postcard of 'Thank yous' or something for allowing him to score. I'm sure he thought it was layup lines before the game."
Echoed John Wall, who was ranked below Bradley in ESPN.com's Class of 2009 high school rankings, "If he can get 13 easy points off cutting back door and making open jump shots, give him credit. That's the easy way to get yourself going. You see the ball go in the basket, that's what he did."
The recent pattern suggests it's more than one fluky game. Bradley has seen his shot go in consistently for weeks now and it's allowing him to flourish even more. It was obvious at the start of the year that his gritty defense was going to allow him to carve out a spot in the rotation, but his shooting has made him an invaluable asset in the Celtics' backcourt.
Said Pierce: "All the great teams and all the champions they always have that player who can step up outside of the stars and that's what makes the team an even better team. And each night, we got to have different guys, and tonight it was Avery. And if that's something we can have consistently throughout the rest of the year, no matter who it is, we are going to be a tough team to beat come playoff time."
Bradley believes there's still room for growth in his play, particularly at being the backup ball-handler behind Rondo, a role he's had to assume more of with Keyon Dooling playing primarily off the ball.
"I just need to get better every day," said Bradley. "I just have to keep improving. Doc tells me things I need to improve on; Not only him, but my teammates. I'm just open to learning, whatever I need to get better at."
Rivers always knew he'd get better with his shot. In fact, it's maybe the last thing he needs to improve on at the moment and that speaks to how far his shot has come in just two months.