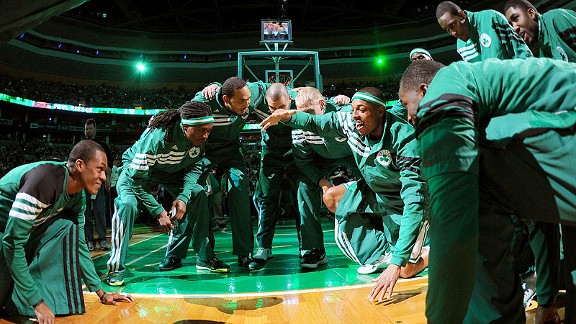 Steve Babineau/NBAE/Getty Images
The Celtics are aware of the playoff seedings, but trying to focus on their own play.BOSTON -- Celtics coach Doc Rivers admits he's not quite sure of the best way for his team to attack the final month of the season as far as balancing rest versus pushing for a higher playoff seeding. One thing he made clear Wednesday night is that health remains the priority in his mind.
"I don't know the answers," said Rivers. "So if you guys have any suggestions, we're going to put a box up [outside the locker room] and then just slip your little message in there, because really, I don't think anybody knows. The way to do it is get up by 10 games, like some of the teams are, and they can rest. At the end of the day, if it came down to seeding or health, I'm going to choose health. You'd rather have a better seed, but you can go wherever you want, if you're not healthy, it doesn't matter anyway. Especially with us."
The Celtics pulled even with the Philadelphia 76ers atop the Atlantic Division with Wednesday's 94-82 triumph over the Utah Jazz, giving the teams matching 28-22 records with 16 games to go. The division champ earns the luxury of the No. 4 seed in the Eastern Conference playoffs (and home court in the first round), but the Celtics have a much more daunting slate than the 76ers the rest of the way.
Boston players can't help but admit they are already scoreboard watching with four weeks to go in the season.
"You know I know everything, I follow it religiously," said captain Paul Pierce. "I'm constantly on ESPN.com, NBA.com -- all the websites. I'm always checking the scores, even during the games, in the middle, checking out who's winning. I pretty much know all the scores from tonight. I'm just a basketball junkie, it's something I live, and I'm sure the other guys probably do the same things I do and are very aware of it."
Cracked teammate Keyon Dooling: "I keep up with the league -- you guys do a great job, I want to make sure I support your craft."
Turning more serious, he said the focus for Boston is simply on what it can control.
"We have a team that really is about us -- what we do, building habits, and building for the playoffs," said Dooling. "This team is made for the playoffs, built for grind-it-out type of games and that's usually how playoff games are."
Rivers hinted that rest might ultimately win out in the end as he's more inclined to rest bodies near the regular-season finish line, rather than run his players ragged just trying to shuffle up in the seedings. Would Rivers even consider sitting some of his veteran players -- like, say, Kevin Garnett -- during that daunting back-to-back-to-back -- all on the road -- looming in mid-April?
"There may be a very good chance," said Rivers. "The problem, without saying a name is, one of the guys that you would suggest sitting, it's not fun to get him to do that. The conversation is no fun. Maybe he'll see that and maybe he won't. It will be an interesting discussion."
BENCH STEPS UP IN BIG SPOTS
With injuries this season, the Celtics' bench has been thinned on a nightly basis with the Celtics forced to bring players up to the starting lineup. But that's afforded recent opportunities for players like Dooling and Sasha Pavlovic, who are making the most of previously diminished minutes.
On Wednesday, both players made key fourth-quarter 3-pointers to help Boston fend off Utah after it rallied from an 18-point deficit to tie the game in the final frame. Dooling, who has come on strong in recent games, hit a trifecta from the left wing with 10:46 to play to break the final tie of the night, while Pavlovic's triple with 7:18 to go ensured the Jazz wouldn't rally again.
"You know who I thought really won the game was our bench," said Rivers. "I thought the stretch in the fourth quarter when they cut it to 3 -- or maybe even tied -- and Keyon hit a shot and then Sasha hits a shot. Those are huge plays for our team."
Ryan Hollins chipped in four points -- off two highlight-worthy alley-oop feeds from Rajon Rondo -- in the first half, while Greg Stiemsma's stat line won't overwhelm (1 point, 4 rebounds, 4 blocks, 4 fouls over 19:26) but he provided some crucial big-man defense against a daunting Utah frontcourt.
Said Garnett: "Avery's playing really well, Keyon [too, and] additions to our team such as Ryan and Steamboat, those guys come in and give us a big lift."
LOOSE BALLS: WILCOX SET FOR SURGERY
* Rivers confirmed that former Celtics forward/center Chris Wilcox is set for aortic surgery Thursday afternoon. Wilcox's heart ailment was detected during a routine screening earlier this month and follow-up testing revealed the need for surgery, ending his season. Boston waived Wilcox last week in order to make room to add Hollins. Wilcox is the second Celtics player to undergo aortic surgery this season as Jeff Green did the same back in January (and has since sat with the team during a couple games while doing some of his rehab in the Boston area). Both Wilcox and Green hope to resume their NBA careers next season.
* The Jazz entered Wednesday's game as winners of seven of their last eight (the only blemish a quadruple-overtime loss to the Hawks on Sunday). Rivers offered high praise for a Utah team that had climbed to the No. 7 seed in the Western Conference entering Wednesday's action. "Underrated, not talked about enough," said Rivers when asked to assess the Jazz. "[Utah is] big. I was telling someone, they are not necessarily tall, but they are very big. Al [Jefferson] and [Paul] Millsap have been playing unbelievable, but then when you have [Enes] Kanter and [Derrick] Favors coming in after that. That's pretty imposing. The other thing, I think Devin [Harris] has had an excellent year. I think, last year, the trade or whatever, he struggled a little bit. You can see he's kinda found his legs, he knows this is his team to run and you can see that in the way he plays. It's made a big difference."
* Al Jefferson on still being winless versus Boston since being shipped out as part of the KG trade: "It's always good coming back here. It'd be nice to get a win. I haven't beaten them since I left. But it's always good to come back. They always play their best. We put ourselves in a position to win. That's all we can ask for."
* Rivers invited some military friends -- Sgt. Kevin Paulson of Brimfield, Mass. and Specialist Jared Ward of Lynn, Mass., who presented the Celtics a special dedicated flag that was flown over Afghanistan during a recent mission in support of Operation Enduring Freedom -- to his postgame press conference and allowed them to stand on stage as he conducted his chat with the media from the wings...