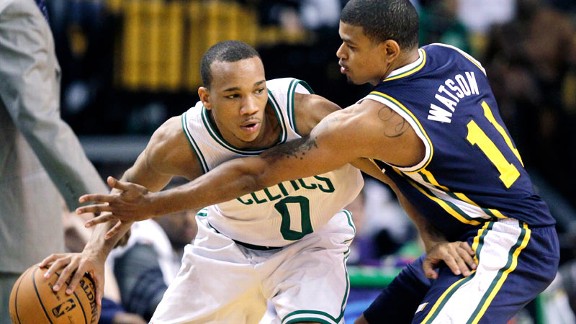 AP Photo/Elise Amendola
Avery Bradley and the Celtics were able to keep the Jazz at bay despite fumbling away a big lead.BOSTON -- Rapid reaction after the Boston Celtics defeated the Utah Jazz 94-82 Wednesday night at TD Garden:


HOW THE GAME WAS WON
Kevin Garnett scored a team-high 23 points on 10-of-16 shooting to go along with 10 rebounds, 4 assists, 2 steals and a block over 34 minutes, while Paul Pierce kicked in 20 points, 6 rebounds, 2 steals and a block despite continuing to struggle to get shots to fall. The starters (including Brandon Bass and his 19 points) helped Boston open an 18-point third-quarter lead, but it might have been the bench that saved the day at times in the fourth quarter. Gordon Hayward scored a team-high 19 points for Utah, while old friend Al Jefferson chipped in 18 points on 7-of-19 shooting with 12 rebounds.
TURNING POINT
A Paul Pierce layup with 7:40 to play in the third quarter had the Celtics on top 61-43, but it wouldn't be a Celtics win if things didn't get too close for comfort. Boston mustered just one more field goal the rest of the third quarter, and a mere 53 seconds into the fourth frame the game was tied at 66. Unlikely hero Keyon Dooling drilled a 3-pointer from the left wing to break the tie. After a Garnett fadeaway, Avery Bradley got to the charity stripe off a hard push (and his own rebound) to help bump the lead back to 73-66 with 9:42 to go.
SHOTS GO WAYWARD BECAUSE OF HAYWARD
If the Jazz had won this game they might have Hayward's ridiculous defense of the rim early in the fourth quarter to thank. The Celtics had that 7-point cushion and were looking to pull away when Hayward made an incredible block to deny Dooling in transition. Bradley got the offensive rebound and tried for an emphatic dunk, but Hayward somehow managed to recover and came up with another stellar block to keep the lead at 6. Utah then made it a one-possession game before Dooling hit a big jumper and Sasha Pavlovic followed with a key 3-pointer to push the lead to 78-70 with 7:18 to play.
BOLD PLAY OF THE GAME
Maybe it's indicative of Boston's overall lack of athleticism, but the Rajon Rondo-to-Ryan Hollins connection lands here for the second straight game. Producing nearly a mirror image of their alley-oop from Monday's win over Charlotte, Rondo fed a hard-charging Hollins as he swooped in from the right side late in the second quarter for a 42-29 cushion. Just 30 seconds later, coming out of a timeout, Hollins cut back door from the left side and Rondo delivered a second alley-oop feed for a 15-point cushion. Rondo finished with 14 helpers, pushing his double-digit assist streak to a career-high 11 games.
WHAT IT MEANS
The Celtics have won three in a row and have an opportunity to finish March strong when they trek to Minnesota on Friday night. The Jazz had been averaging 109 points over their previous eight games and Boston limited them to 39 percent shooting (32 of 82 overall). The Celtics didn't let the Jazz capitalize on second-chance efforts, either; Utah's whopping 16 offensive rebounds led to only 7 second-chance points on 2-of-11 shooting. The Celtics got annihilated on the glass (49-38), but managed to live to talk about it yet again. It was a quality win against a potential Western Conference playoff team with plenty of talent. And, of course, we got the requisite double technical between Garnett and Jefferson. All in all, a complete night for the Celtics.