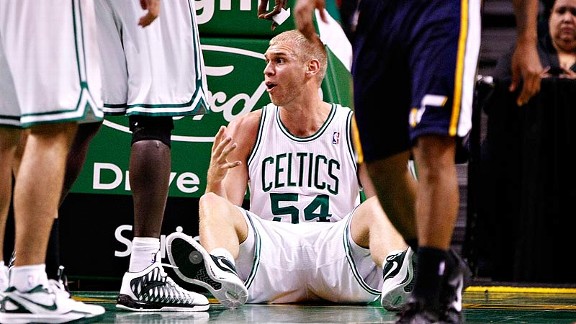 Yoon S. Byun/The Boston Globe/Getty Images
Celtics center Greg Stiemsma can't believe the foul call against him.The biggest peril of being an NBA rookie on a veteran team? When the whistle blows in a crowd around the basket, it's usually not the superstars that get tagged with the personal foul. Just ask Celtics center Greg Stiemsma.
Over his last three games, Stiemsma has used up 17 of his 18 available fouls in about 22 minutes per night, getting an early exit after fouling out in the fourth quarter of Boston's last two wins against Minnesota and Miami. Celtics coach Doc Rivers is somewhat sympathetic.
"He feels like the picked-on one right now -- it just seems like he gets picked on a little bit," admitted Rivers. "He's the young guy out on the floor. If [the referees] can call it on Kevin [Garnett] or Paul [Pierce], it usually gets called on Greg. I think he's just going to have to get used to that."
Rivers did bust Stiemsma's chops a little bit about getting his money's worth when he does actually commit a foul.
"It's funny, even [Friday] night [in Minnesota] when he fouled out, I got on him because his sixth foul wasn't very hard," said Rivers. "If you're going to use them, use them."
Stiemsma is also at the mercy of star power while showing lately he can absorb charges. There's been a couple times when it looked like he deserved the call, only to get whistled for a blocking foul. Regardless, his improving ability to take charges (HoopData credits him with six on the season, half of which have come in recent games) is sure to please Rivers, who often raved about Jermaine O'Neal's ability to both block shots and take charges.
Now if Stiemsma could just get a few more whistles to go his way and really drive those numbers up.
[Note: Our friends over at CelticsHub have a little bit more on Stiemsma and his fouls.]