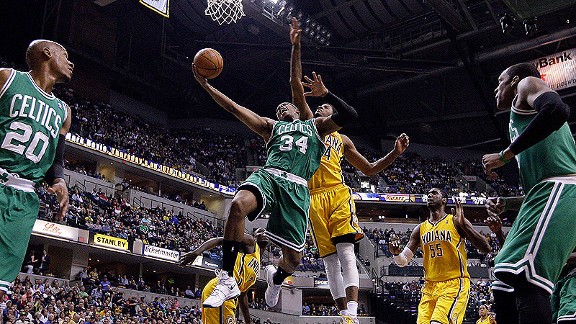 AP Photo/Michael Conroy
Celtics captain Paul Pierce drives hard to the hoop against the Pacers.Rapid reaction after the Boston Celtics defeated the Indiana Pacers 86-72 Saturday night at Bankers Life Fieldhouse:


HOW THE GAME WAS WON
Boston leaned heavy on its Big Three as Paul Pierce scored a game-high 24 points on 8-of-16 shooting, while Kevin Garnett got hot in the final frame and finished with 15 points, 7 rebounds, 4 assists and 2 steals. Ray Allen came off the bench to score 19 points on 7-of-18 shooting (5-of-11 beyond the arc), and a three-man reserve unit (including Greg Stiemsma and Sasha Pavlovic) combined for 37 points. Danny Granger scored 20 points on 6-of-15 shooting, while David West had 16 points on more efficient 8-of-10 shooting for the Pacers.
TURNING POINT
The Celtics took control of a disjointed game at the start of the second quarter. Owning a 5-point lead entering the frame, Boston held Indiana without a bucket for nearly seven minutes (the Pacers missed their first 11 shots) and the Celtics' lead ballooned to 17 before Darren Collison hit a jumper with 5:09 to play in the first half. More encouraging: The bulk of Boston's defensive dominance came with a second-unit lineup featuring Pavlovic, Stiemsma and Allen running with Garnett and Avery Bradley.
BOLD PLAY OF THE GAME
The Pacers got caught napping on a pick-and-roll: Three yellow jerseys were staring at Rajon Rondo as Stiemsma rolled free to the basket in the first quarter. Rondo lobbed it up for the alley-oop slam. The duo paired up on a similar pick-and-roll late in the second quarter, this time Rondo delivering a little bounce pass from the lane that Stiemsma finished with a two-handed jam over traffic.
RONDO PROLONGS HIS ASSIST STREAK
Rondo came out pass-happy, handing out 8 of Boston's 10 first-quarter assists (on 11 field goals overall). That included racing end to end in the final seconds of the first frame before dishing to Pavlovic for a buzzer-beater (and a 5-point lead). When the game got ugly, it took Rondo a while to extend his double-digit assist streak to 16 games, but he fed Pierce for a layup with 5:47 to play in the fourth quarter for his 10th of the night. Rondo finished with 4 points and 12 helpers over 35:22.
OFFICIATING QUESTIONABLE; RONDO LANDS FLAGRANT
Teams vent about calls that go against them all the time, but the Celtics sure seemed to have legitimate gripes after some questionable calls against them throughout the night. One in particular that drew Doc Rivers' ire came when Rondo got tagged with a flagrant-1 when he connected with the head of Granger while trying to block a shot from behind on a fast break late in the first half. Rondo was trying to make a play on the ball and simply made contact with Granger with his arm.
BRADLEY TWEAKS SHOULDER, PLAYS THROUGH IT
Bradley, back in the starting lineup, appeared to jam his left shoulder while trying to force up a shot in traffic late in the second quarter. He came right out of the game and got looked at by trainer Ed Lacerte, but returned to the floor to start the second half. Bradley finished with 4 points on 2-of-7 shooting with 5 rebounds, 3 assists and 5 turnovers over 29:38. Maybe the most encouraging stat on his line: plus-18, showing yet again how well the team is playing when he's on the floor.
SWAT-HAPPY STIEMSMA
What a stat line for rookie center Stiemsma. Not only did he make all four shots he took for 10 points, but he also grabbed 9 rebounds and blocked 5 shots over 26:50. There was a time in the first quarter when it looked like he might flirt with a points-rebounds-blocks triple-double. Those five swats were one shy of his career high (he had six in his Celtics debut against New Orleans).
DOMINANT DEFENSE
The Celtics limited the Pacers to 35.1 percent shooting (26-of-74). Paul George, unable to exploit his height advantage on a smaller Boston backcourt, missed all seven shots he took, while a five-man Indy bench mustered a mere 12 points on 4-of-21 shooting. The Pacers had a height advantage up front, but Boston played them even on the glass (Indy with a 45-44 edge). The hosts turned 10 offensive rebounds into only 9 second-chance points (3-of-10 shooting; Boston had 13 second-chance points on 5-of-7 shooting).
WHAT IT MEANS
Challenged by their coach after a lackluster effort in Chicago in which they let a winnable game get away, the Celtics responded with solid energy against a Pacers team that had won four straight (including Friday before over West power Oklahoma City). Boston moves to within 2½ games of the Pacers, who currently hold the No. 3 seed in the Eastern Conference. After losing twice to Indiana in eight days in early January, the Celtics rallied to split the season series (also winning in late January in Boston). Boston has to utilize the momentum as Easter Sunday brings a visit from the Philadelphia 76ers, the last head-to-head battle of the season and a key Atlantic Division clash.