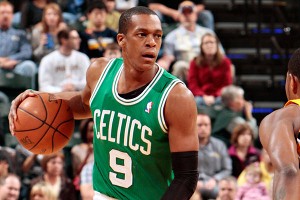 Ron Hoskins/NBAE via Getty Images
Celtics point guard Rajon Rondo vs. Indiana.The Celtics didn't exactly blow the door off the hinges at the start of Saturday's tilt with the Indiana Pacers, and Boston's 86-72 triumph was far from the team's prettiest of the season. But the Green clearly heard coach Doc Rivers challenge them following Thursday's loss in Chicago and responded with the sort of gritty effort that's become their trademark this season.
Boston's starters struggled with their shots early on and referee whistles challenged the Celtics' composure for much of the night. But instead of unraveling, Boston leaned on its defense and it was the Pacers who emerged truly frustrated.
"I love how competitive we were," Rivers told reporters in Indianapolis, while noting all the things that could have derailed Boston's effort early on. Later Rivers added, "It's easy to lose your composure on the road when you don't think things are going well."
Rivers didn't exactly lose his composure on Thursday, but he expressed extreme disappointment in his troops' effort after what he termed "cool" play in the team's "worst loss" as an often lifeless Celtics team built a double-digit lead, only to fumble it away in the second half against the Bulls. This was on the heels of losing a winnable game against San Antonio on Wednesday night in Boston.
Maybe perceiving this weekend's back-to-back against Indiana and Philadelphia as a critical juncture in Boston's season, Rivers challenged his team's toughness and suggested that if the Celtics didn't up their intensity, they wouldn't last long in the playoffs against quality teams.
The Pacers entered Saturday's game having won four in a row, including a triumph Friday night over West power Oklahoma City. What's more, they had averaged 107 points during that stretch, but Boston limited them to 26-of-74 shooting (35.1 percent). Despite a couple of surges, the Celtics leaned on a 17-point first-half cushion -- built behind a defense that held Indy scoreless for the first seven minutes of the second quarter -- and emerged with a grind-it-out triumph.
Not only did the Celtics climb to within 2½ games of the Pacers, who currently own the No. 3 seed in the East, but coupled with Philadelphia's loss to visiting Orlando, Boston will own a 2-game cushion atop the Atlantic Division when the 76ers visit on Easter Sunday.
Despite losing the first two head-to-head matchups of the season with Philadelphia, Boston could put itself in prime position to win the division with a victory Sunday at TD Garden (the division champ is guaranteed no worse than the No. 4 seed in the East). Yes, Philadelphia owns the head-to-head tiebreaker, meaning Boston must finish ahead in the final standings, but a three-game cushion with 10 games to go would make it mighty tough on a 76ers squad that has lost three straight and six of its past nine overall.
Even with the back-to-back losses this week, the Celtics have won eight of their past 11 to ascend in the seedings. Boston can guarantee itself home-court advantage in the first round by winning the division and would avoid a top seed like Miami and Chicago -- even if the Celtics contend that seeding ultimately doesn't matter as much as overall health.
What Boston has to like best about Saturday's triumph is how its bench played. In his second game in a reserve role -- and only his third game back from a right ankle injury that sidelined him for six games -- Ray Allen found his rhythm, scoring 19 points on 7-of-18 shooting (5-of-11 beyond the arc). Greg Stiemsma and Sasha Pavlovic combined for 7-of-8 shooting for 18 points (and Stiemsma added 9 rebounds and 5 blocks) as a three-man bench carried the team at both ends of the floor during pivotal moments of the first half.
Eventually, Paul Pierce found his stroke and shouldered the offensive load, while Kevin Garnett made 4 of 7 shots in the fourth quarter (after connecting on just 2 of 9 shots to start the game). Even still, Brandon Bass (0-for-6, 2 points), Rajon Rondo (2-for-6, 4 points) and Avery Bradley (2-for-7, 4 points) provided little offensive output. Rondo did have 12 assists, only four of which came after the first quarter. Boston still found a way to win by double digits with a short bench.
That's exactly the sort of grit Rivers wanted to see.
Word out of Indianapolis was that none of the Big Three elected to talk to the media after Saturday's game. It's safe to assume they did their talking on the court, answering Rivers' challenge and showing yet again that this team is capable of producing key victories on big stages.