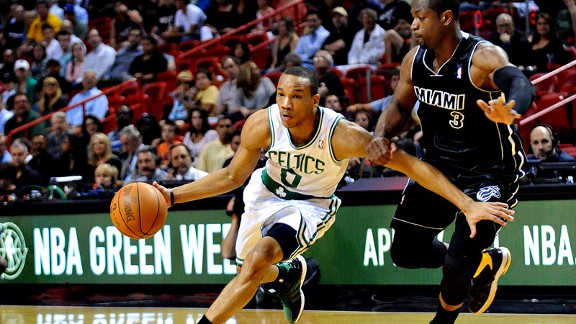 Steve Mitchell/US Presswire
With five games in six nights, Avery Bradley and the C's hope it truly is NBA Green Week.MIAMI --Rapid reaction after the Boston Celtics defeated the Miami Heat 115-107 Tuesday evening at AmericanAirlines Arena:


HOW THE GAME WAS WON
Paul Pierce scored a team-high 27 points to go along with seven rebounds and two assists, while Kevin Garnett chipped in 24 points (on a super-efficient 11-of-14 shooting) with nine rebounds, two assists and two blocks as Boston shot 60.6 percent (43 of 71) and outlasted the Heat in a clash of Eastern Conference rivals. Rajon Rondo added 18 points and 15 assists, while Brandon Bass finished with 12 points and 10 rebounds. LeBron James scored a game-high 36 points for Miami.
TURNING POINT (PART I)
The Celtics absolutely dominated the final three minutes of the first quarter (an 11-0 run), then scored on each of their first five possessions of the second quarter while building a 16-point cushion. The game had been tied at 22, but Boston generated six free throws, Greg Stiemsma made a jumper, and Pierce added a trifecta before the end of the first frame. A pair of 3-pointers from Sasha Pavlovic highlighted the offensive flurry for Boston to start the second quarter and the lead ballooned as high as 18. But the Heat weren't about to roll over.
NOT HALF BAD, BEYOND THE TURNOVERS
The Celtics were up 17 with five minutes to go in the first half, but all it took was a turnover and a resulting Dwyane Wade dunk in transition to give the Heat renewed life. A Mario Chalmers jumper and another Wade dunk off a strong drive to the rim highlighted a 9-0 burst in little more than a minute and the lead dwindled to eight (where it remained at halftime). For a Boston team that shot 60.5 percent in the first half (23 of 38), allowing the Heat back into it with turnovers (seven giveaways for 12 points in the first half) tempered an otherwise fantastic offensive half. The 65 points tied Boston's 2012 first-half high and was the most given up by Miami before intermission this season.
IT'S ALL ABOUT 18 (FOR RONDO)
Rondo pushed his double-digit assist streak to 18 games during Tuesday's triumph. His finest stretch might have come late in the third quarter with the Heat desperately trying to get over the hump. Rondo assisted on four straight Boston buckets, highlighted by an alley-oop lob to Stiemsma when he rolled free to the hoop. Rondo also looked for his own offense in the frame (connecting on 3 of 5 shots for nine points), including an elbow jumper with 1:50 to go that pushed the lead back to double digits. But, again, the Heat wouldn't go quietly.
TURNING POINT (PART II)
The Heat quickly made it a one-point game in the fourth quarter, forcing Boston to keep coming up with big shots. Bass hit a little turnaround in a one-point game. With the lead at two, Ray Allen found some space and canned a 3-pointer from the left wing for a 94-89 advantage with 9:01 to go. But it was Garnett that ensured there would be no comeback ...
BOLD PLAYS OF THE GAME
... Garnett made four consecutive midrange jumpers over a 1:41 span, turning a 5-point lead into an 11-point cushion. Pierce added a fadeaway before Rondo up-faked Wade into a foul (Wade earned a technical for complaining) and before you could blink Boston's lead was at 12 with 5:18 to play. The Heat actually got it back down to five with two minutes to go, but -- guess who? Yes, Garnett again -- answered with a turnaround jumper to essentially seal it.
SOLID NIGHT FOR STEAMBOAT
Oh sure, he had the usual bouts with referee whistles, but Stiemsma chipped in eight points, seven rebounds, two blocks and a steal over 19:34. He made four of his five shots and finished plus-10. ... The Celtics continue to run with only a three-man bench (Stiemsma, Allen, and Sasha Pavlovic) during big games.
WHAT IT MEANS
Well, that was entertaining. Defense took a bit of a back seat as Boston and Miami engaged in an old-fashioned shootout. The Celtics were in complete control while blistering the floor early on, but simply couldn't hold onto the momentum (usually turnovers giving Miami some fire with loud buckets in transition). Boston would have preferred the win to come easier, especially with a back-to-back looming with potential playoff foe Atlanta on Wednesday at TD Garden, but the Celtics stuck with the 2011-12 season script and had to grind out the win in a game with a playoff vibe. These teams battle one more time in Boston later this month and a playoff series would be highly entertaining if it materializes.