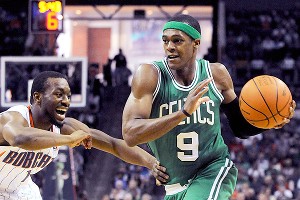 Sam Sharpe/US Presswire
Rajon Rondo at work vs. the Bobcats.Despite all of Rajon Rondo's individual success, it always seems to come with an asterisk: "Well, he's playing with three Hall of Famers." Fair or not, it's always there. Like during the playoffs last year when (since departed) Knicks coach Mike D'Antoni opined on Rondo, "I'd like to see him play in Minnesota and see how he does. Everybody's tied together and [the Celtics] have three Hall of Famers playing out there."
Not on Sunday they didn't. The Celtics left Kevin Garnett and Paul Pierce behind in Manhattan for some additional rest after Saturday's win in New Jersey and Ray Allen remained in Boston and missed his fourth game with right ankle soreness. That meant for only the fifth time in Rondo's career -- and for the first time in exactly two years -- he took the floor without any member of the Big Three alongside him Sunday in Charlotte.
All he did was put up 20 points, 16 assists, 6 rebounds and a steal over 43:14 while pacing Boston to a 94-82 win over the Bobcats.
Oh sure, D'Antoni would rush to note it was 7-win Charlotte on the other side and that Rondo turned the ball over a whopping 8 times. The fact remains that the Celtics hardly missed a beat without three of their top players. Avery Bradley and Brandon Bass (22 points apiece) were Rondo's chief beneficiaries as the team capped a game-heavy stretch with a win that brings Boston one step closer to locking up the Atlantic Division title and the No. 4 seed in the Eastern Conference playoffs.
"I thought Rondo was sensational," Celtics coach Doc Rivers told reporters in Charlotte. "He led, and he didn't want to come out."
If not for temporarily tweaking his right elbow late in the third quarter, Rondo might have stayed on the floor for the duration. He had told Rivers before the game he was available for 48 minutes (to which Rivers jokingly told him he'd have to play the full game without the team's other stars), but Rondo needed only a couple minutes to shake off the elbow pain, then sat out a couple other minutes near game's end after helping Boston motor away.
It wasn't hard to tell that Rondo was amped for this one. In the opening frame, he not only dished out seven assists -- paving the way for him to extend his double-digit assist streak to 22 games -- but made 4 of 5 shots for 12 points and grabbed a pair of rebounds (Boston scored 34 points in the quarter while shooting 61.9 percent overall).
The second quarter was a bit more frustrating as Rondo missed 4 of 6 shots, turned the ball over four times and got tagged with a technical foul on his way to the locker room at the intermission for barking about a lack of foul calls. He probably wasn't thrilled that it was a three-point game as the Bobcats hung around into the fourth quarter.
It was a four-point game until Rondo fed Bradley for a 3-pointer in transition with 5:38 to play. Rondo added another helper on a Bass jumper soon after, chipped in a driving layup, and fed Mickael Pietrus for a reverse layup as part of a 12-2 burst that left Boston out front 90-76 with 2:10 to play.
No, Rondo didn't produce another triple-double, but he had a heck of a night. Probably not enough to silence the critics, but there's something to be said for handing out 16 assists (of the 21 total for Boston) when you're running with a lineup where rookie center Greg Stiemsma is starting in place of Kevin Garnett. Stiemsma, by the way, made all four shots he took while chipping in 8 points, 6 blocks, 5 rebounds, 4 steals and an assist in a rock-solid spot start.
About the only breaks for Rondo came when Rivers had Bradley or Keyon Dooling handle the ball and run the offense on a handful of trips downcourt. A 43-minute night still isn't much for a guy who logged 47 minutes in an overtime win over Atlanta four days ago, but Rondo's value on this night cannot be understated.
The same goes for his impact on this year's team as a whole. There's a reason Rivers always reverts back to a familiar line in noting that "So goes Rondo, so go the Celtics." We've been told that Rondo is the straw that stirs the drink, and he showed Sunday that he does it regardless of the other ingredients.