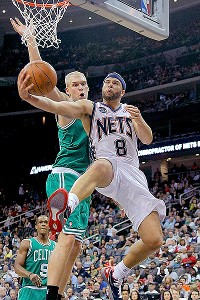 Jim O'Connor/US Presswire
Greg Stiemsma looks to swat Deron Williams in New Jersey.One thing we couldn't cram into our offday story on Greg Stiemsma is just how incredible his defensive turnaround has been. Consider this...
In late January, 16 games into his rookie campaign, teams were exploiting Stiemsma with blatant disregard for his ability to defend the pick-and-roll. According to Synergy Sports data, Stiemsma was allowing a whopping 1.017 points per play (59 points in 58 possessions) to that point, ranking him merely in the 8th percentile among all NBA players. Celtics coach Doc Rivers admitted teams were playing an alarming amount of pick-and-roll as soon as he checked into the game and it was leading to easy buckets.
Maybe it's not surprising that his playing time became sporadic soon after that point. It wasn't until Jermaine O'Neal aggravated his wrist injury shortly before the All-Star break that Stiemsma's minutes jumped back up. So, too, did his defense, which has improved jaw-dropping dramatically since that rocky start to the season.
With 52 games now under his belt, Stiemsma is allowing a mere 0.727 points per play (237 points on 326 possessions) ranking him in the 90th percentile among all NBA players. His pick-and-roll defense has improved by leaps and bounds, and he's becoming more stout as a 1-on-1 defender in the post. His length continues to make him difficult to shoot over away from the basket.
Defensively -- albeit at different positions -- Stiemsma is now on par with Avery Bradley and Rajon Rondo (both 0.725 points per play, 91st percentile). Sure, Boston's overall team defense is aiding Stiemsma's numbers, but he deserves a tremendous amount of credit for getting comfortable in the system. In fact, take away those first 16 games and he's allowed a mere 178 points on 268 defensive possessions (0.664 points per play).
Whatever Kevin Garnett has taught the 26-year-old big man has rubbed off on him. Immediately.