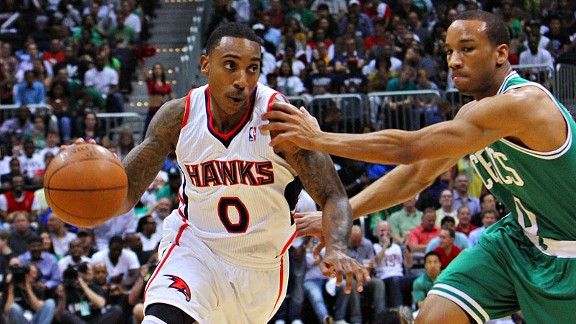 Joshua S. Kelly/US Presswire
Avery Bradley tightened up his defense in the second half against Jeff Teague.ATLANTA -- A collection of news and notes after the Boston Celtics defeated the Atlanta Hawks in Game 2 of an Eastern Conference quarterfinal series Tuesday night at Philips Arena:
Bradley tightens up on Teague
After watching Jeff Teague light up the Celtics for stretches of the first three quarters, Boston guard Keyon Dooling dubbed Atlanta's spark plug point guard "The Little Engine That Could." Then the Celtics made some adjustments and Boston's own high-energy guard, Avery Bradley, ratcheted up his defense, and suddenly Teague was "The Little Engine that Couldn't."
Teague scored 16 of his 18 points in the first three quarters, connecting on 6-of-14 shots while grabbing 5 rebounds and handing out 2 assists to stake Atlanta to an 11-point cushion late in the third quarter. But Bradley slowly corralled him, and Teague missed all four shots he took in the fourth quarter (a frame in which Atlanta shot just 21.1 percent overall) as Boston rallied for a pivotal win that ripped home-court advantage away from Atlanta.
The series is tied 1-1 and shifts to Boston for Game 3 on Friday night at TD Garden.
Bradley, who started at point guard in place of the suspended Rajon Rondo, finished with 14 points, 3 assists, 3 blocks, 2 rebounds and just 1 turnover in nearly 42 minutes of action Tuesday.
"Avery did a phenomenal job, just to be able to play two positions, run the show, and I think he was 50 percent from the floor [4-for-8 overall], not many turnovers, and defensively he's always incredible," said Dooling. "But he played a real nice floor game. He understood that we wanted to search and seek for Paul [Pierce], and he wasn't as aggressive with the ball as he usually is. Down the stretch, he made key pull-ups. And defensively, he was all over the place. Avery is a phenomenal player, phenomenal talent. The sky is the limit."
Making only his second career postseason appearance, Bradley is proving that he won't be overwhelmed by playoff intensity, even in a starting role. He continues to feed off his teammates.
"I feel like we all rub off on each other, pick each other up, trying to get everybody hyped up, that's what [Dooling] did," said Bradley. "People come in and bring that energy. Keyon, even Marquis [Daniels], too, he played great tonight. It just shows what kind of team this is."
Bass quiet without Rondo
Celtics starting power forward Brandon Bass endured another quiet night, settling for 8 points (on 3-of-7 shooting) and 6 rebounds in 30:49. Before the game, coach Doc Rivers admitted that the loss of Rondo might affect Bass more than any other player on the court.
"This is a tough one. The one thing -- not having Rondo does a lot of things -- but the single guy it affects the most is Brandon, by far, because Rondo was the guy that makes the pass on the pick-and-pop and all that," said Rivers. "Brandon has struggled in the games that Rondo hasn't played in. We worked on a lot of stuff [recently], still trying to get him shots, because when he stretches the floor, it's huge for Kevin [Garnett]. And we're going to need someone on our team to make that pass, and somehow we have to do that."
Bass missed all three shots he took in the third quarter and did not play in the fourth frame on Tuesday (the Celtics instead leaned on a smaller lineup that featured Marquis Daniels). Bass' numbers dipped in each of his previous two postseason appearances with Orlando, and the Celtics are trying to get him to produce as he did in the regular season, where his injection into the starting lineup aided the strong second-half run.
Loose Balls: Pietrus endures rough night
* Thrust into a starting spot (with Bradley shifting to point guard), Celtics forward Mickael Pietrus missed all three shots he took (all 3-pointers) and finished with 4 fouls and 2 turnovers in 19 forgettable minutes (offsetting his 2 rebounds and 2 steals).
Three of those fouls came in a 34-second span in the second quarter, which led to his getting an early hook just four minutes in. When he got back on the court, Pietrus wasn't particularly crisp, and one sloppy second-quarter pass left Rivers fuming and yelling at him.
Pietrus could have checked out mentally, but veterans like Garnett (who also gave him a piece of his mind after his sloppy play) and even injured guard Ray Allen were clearly trying to get him to focus in the second half. Pietrus played nearly 15 minutes after the intermission, missing both shots he took.
* The Celtics actually ran 10 deep; rookie E'Twaun Moore and newcomer Sean Williams were the only available players who didn't see the floor (Allen and JaJuan Johnson were scratches).
* Before Tuesday's Game 2, an Atlanta reporter started a question to Rivers with, "Josh Smith really kinda killed you guys on the boards [in Game 1]..." Rivers soon interrupted and quipped, "Well, thank you, that's very nice." The reporter apologized and asked what the Celtics could do to slow Smith down on the boards. "Kill him?" Rivers quipped again before turning more serious. "I don't know, he was good. He was active. He played a very smart floor game. He's more athletic than everybody we have, that's for sure, but we have to put a body on him and we didn't do that, we were not physical at all. We have to go find him and find him physically and put a body on him." Smith actually hobbled off with a left knee sprain in the fourth quarter Tuesday.
* Asked what he made of comments by Hawks enforcer Ivan Johnson that were critical of Kevin Garnett, Rivers said simply, "Ivan Johnson said it, that's about it."