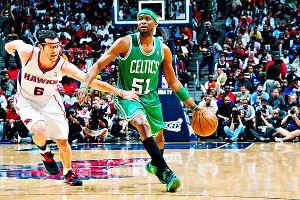 Scott Cunningham/NBAE/Getty Images
Celtics guard Keyon Dooling at work vs. the Hawks.ATLANTA -- The question posed asked Celtics reserve guard Keyon Dooling about his two second-half 3-pointers that aided Boston's come-from-behind victory in Game 2 of an Eastern Conference quarterfinal series against the Hawks, the first of which snapped a 77-minute, 25-second trifecta-less streak for Boston to start the postseason.
Dooling politely tried to steer the conversation to the other end of the floor.
"We made some shots, but the key for us was defense," he said. "We really locked in, defensively. We were able to kinda slow [Atlanta point guard Jeff] Teague down -- he's like 'The Little Engine That Could,' he's all over the place, but [Celtics guard] Avery [Bradley] did a good job of corralling him, our bigs did a good job of giving us extra shows... It was a defensive win for us."
Undeterred, the reporter asked again about the big shots. Keeping with his theme, Dooling got defensive.
"No, I heard your question," he said with a smile. "It's not about what I did. It's about our team and our defense."
And there in a nutshell is why coach Doc Rivers loves Dooling. Here's a player that was in and out of the rotation all season long, all while battling multiple injuries early in the season. His defense was downright atrocious at times, but here in the playoffs he's elevated his play. All while being a vocal leader on and off the court for the Celtics.
Boston players talked a lot about being professionals after Tuesday's win and Dooling's effort (and that of someone like little-used Marquis Daniels) epitomized how Boston bench players have stayed ready this season.
"We all have roles on this team," said Dooling. "My role has been like that all year. In the playoffs, everything is magnified, but we just want to lock in and encourage our teammates, and we felt like we had an opportunity to win. Nobody really gave us this game on paper without having [suspended point guard Rajon] Rondo, so we were looking at this as opportunity to step up again, and somebody did. We love stepping up to the plate."
With Mickael Pietrus plagued by foul trouble, Dooling logged 21:05 of floor time (more than Pietrus at 19 minutes) and was a big reason Boston was able to rally. Rivers had said there would be some unsung heroes in this series and Dooling made him look smart with his effort Tuesday.