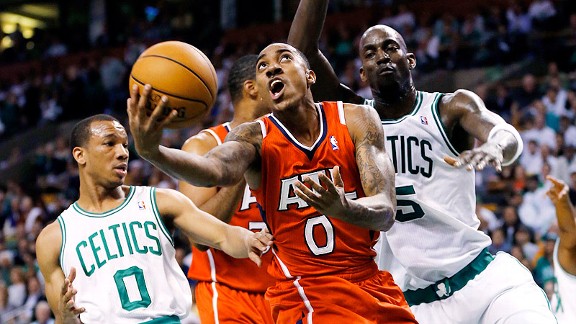 Greg M. Cooper/US Presswire
Jeff Teague tries to wiggle his way through Avery Bradley and Kevin Garnett in Game 3.BOSTON -- Rapid reaction after the Boston Celtics defeated the Atlanta Hawks 90-84 in overtime in Game 3 of an Eastern Conference quarterfinal series Friday night at TD Garden:


HOW THE GAME WAS WON
Rajon Rondo overcame a sluggish start (0-for-3, 2 points, 5 assists, 4 rebounds in first half) to produce his 20th career triple-double (15th on national TV, seventh in postseason) with 17 points, 14 rebounds and 12 assists. Paul Pierce missed nine of the 12 shots he took but made 14 free throws to score a team-high 21 points, while Kevin Garnett added 20 points and 13 rebounds. Joe Johnson paced Atlanta with 29 points on 11-of-28 shooting, while Jeff Teague added 23 points.
BOLD PLAY OF THE GAME
Rondo utilized a little spin move in transition to get into the paint, which drew Tracy McGrady with help defense. It also left Pierce open in the left corner in front of the Atlanta bench and he drilled a 3-pointer -- only his second field goal of the night -- for a 70-64 lead with 8:49 to go. That was Rondo's 10th assist. Coming out of a timeout, McGrady turned the ball over and Rondo went the other way for a switching-hands, reverse layup and his 10th point of the night (the triple-double came soon after with two more rebounds).
TURNING POINT
The Celtics were clinging to a 65-64 lead with 9:20 to go before Rondo delivered a driving layup. The spinning dish to Pierce and his reverse layup followed, and Garnett added four more points as part of an 11-1 run to put Boston out front 76-65 with 6:58 to go. That should have been enough, but the Celtics weren't out of the woods.
TURNING POINT II
Down eight with 2:31 to go, the Hawks needed little more than a minute to tie the game. Willie Green and Johnson each hit trifectas (a Johnson jumper sandwiched in between) to knot the game at 80 with 1:23 to play. Atlanta had a chance to pull ahead, but McGrady's layup attempt was too strong. The Celtics got a final chance, but -- stop if you've heard this before -- Pierce's step-back from his right-elbow sweet spot misfired despite getting Johnson in the air.
TURNING POINT (OT)
Rondo hit a little turnaround hook over Teague, and Pierce followed with a step-back free-throw-line jumper for a four-point cushion midway through the overtime session. Garnett produced the big bucket, however, putting back a Rondo miss with an emphatic slam with 28.1 seconds remaining that had Boston out front 88-84. The Hawks didn't help their cause by making just 2 of 11 shots in overtime.
ALLEN RETURNS TO FLOOR
Celtics shooting guard Ray Allen returned to a thunderous ovation with 4:40 remaining in the first quarter. Hiding behind screens from Pierce and Greg Stiemsma, he buried a baseline jumper 33 seconds later. He had a good look at a 3-pointer from the right wing the next trip down, but couldn't knock it down. In all, he finished with 13 points on 6-of-12 shooting (even if he missed 2 of 3 free throws).
SPEAKING OF OLD-TIMERS
McGrady might have been the best player on the floor in the first half. Turning back the clock, he made 5-of-9 shots while chipping in 10 points, 6 rebounds and an assist over 16:43. He endured a brief injury scare (right ankle) at the end of the half, but was back on the court for the second half. He finished with 12 points, 9 rebounds and 6 assists.
YAAAAAAAWN! SNOOZE-WORTHY HOOPS EARLY ON
The Celtics shot a mere 28.6 percent in the first quarter and Allen (2-for-4) had as many field goals as his Big Four brethren combined (Pierce, Garnett and Rondo were 2-for-13). The teams shot a combined 39.5 percent (45-of-114) through three quarters (C's at 39.2 percent; Hawks at 39.7) and Boston led 60-58 heading to the final frame.
DOUBLE-DOSE OF BEASTIE BOYS
With Beastie Boys cofounder Adam Yauch passing away at age 47 on Friday, the Garden delivered a pair of the band's hits with "Girls" and "(You Gotta) Fight for Your Right (To Party)." Considering how the team shot for much of the game, it's no surprise they skipped playing "Sure Shot."
BRADLEY DINGED UP IN SECOND HALF
Celtics second-year shooting guard Avery Bradley went to the locker room late in the third quarter with what the team termed a sore left shoulder. The team initially said he would return, but he was ruled out early in the fourth quarter.
WHAT IT MEANS
Keeping with the daily theme of the season, the Celtics made things far harder on themselves than they needed to be. The Hawks were playing without Josh Smith (and previously missing Al Horford and Zaza Puchilia), but Boston let Atlanta hang around all night. A win is a win this time of year, and you can win 16 ugly ones and still get a trophy. That said, you have to wonder about the strain Boston is putting on its key guys, as Pierce (47:06), Garnett (42:00), Rondo (48:40) and even Allen (36:51 in his return) logged heavy floor time. Alas, the victory will take some of those pains away and Boston owns a 2-1 series edge with Game 4 back in Boston on Sunday evening.