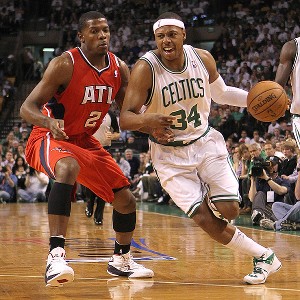 Jim Rogash/Getty Images
Paul Pierce drives on Joe Johnson in Game 3.BOSTON -- At this point, Paul Pierce is probably ready to sleep up until the opening tip of Sunday's Game 4 between the Celtics and Hawks.
Just three days after tweeting about the need for a bed in the aftermath of a 44-minute outing in Game 2 (in which he registered 36 points and 14 rebounds), Pierce was forced to go for 47 minutes in Friday's 90-84 overtime victory in Game 3.
And while he didn't come through with a monster double-double in this one -- he finished with a modest 21 points and five rebounds, missing a chance to win the game in the final seconds of regulation -- he might have exerted even more effort in what turned out to be an uglier, grind-it-out, workman-like performance.
His shot total shrank from 26 on Tuesday to just 12 on Friday, largely due to the return of both Rajon Rondo and Ray Allen, and he struggled to find any semblance of rhythm on offense, hitting just three shots on the evening.
But despite those struggles, Pierce still managed to be Pierce in two distinct ways: For the second consecutive game he got to the free throw line more than 10 times -- he finished a perfect 14-for-14 from the charity stripe -- and he overcame his earlier shooting woes with a fading jumper from the free throw line with just under three minutes to go in overtime, giving the Celtics a 4-point edge.
"Sometimes that's what it's got to be," Pierce said of getting to the line consistently. "Every night it's not going to be your night. Obviously, the dynamics of the system change when you add Rondo and you add Ray, so the shots that I got last game probably weren't going to be there. I didn't expect to get 26 shots up tonight. Sometimes it's tough to get a rhythm, but you have other guys who can step up. I did my part. That's what's most important. I don't care about the shots or the touches. It's about me doing my part and helping this ballclub win."
Pierce had a chance to win the game in the final seconds of regulation, but a difficult shot from the right wing went begging, bringing on the extra five minutes of basketball. But Pierce, who acknowledged afterward that these types of wins don't necessarily have to be pretty, remained unfazed, leading to his short fading jumper finally falling in overtime.
And for Pierce, the satisfaction of another victory, and a 2-1 series lead, is enough to alleviate the fatigue, the aches and the pains that are currently biting at his body.
"The playoffs are hard," Pierce said. "Sometimes Coach is going to ask a lot out of you. I went the whole distance again today [in the] second half. It proved worth it. We were able to get the win and that's all that matters."
Well, that, and the guarantee of a good night's sleep.