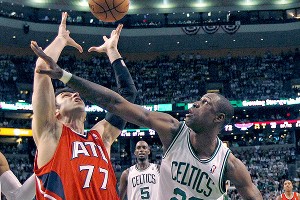 AP Photo/Charles Krupa
Mickael Pietrus has proven to be a defensive pest.The Boston Celtics can't be certain how Ray Allen's balky right ankle will respond to heightened activity after logging 37 minutes in Friday's Game 3 of an Eastern Conference quarterfinal series against the Atlanta Hawks and Avery Bradley sat out the final 15 minutes after dislocating his left shoulder. Even if both players are able to suit up for Sunday's Game 4, it sure seems like Mickael Pietrus will have another opportunity to play a key role.
It's been a bit of an uphill climb for Pietrus this postseason. He missed all five shots he took -- all 3-pointers -- over a combined 39 minutes in Games 1 and 2, but finally got going a bit on that end of the court in Friday's Game 3, making 2 of 3 trifectas while chipping in 6 points over 25 minutes in the overtime win.
Pietrus' biggest contribution thus far has been his versatility, particularly on the defensive end. His size has allowed him to defend many of the mix-and-match bodies the small-ball Hawks have trotted out, and Celtics coach Doc Rivers said the offense is just a bonus for Pietrus.
"[Defense is] why we got him," Rivers said after Friday's Game 3 triumph. "The made shots are gravy with him. He's a terrific on-ball defender, and that's what he does. He has the ability to deny, get up into you. Joe Johnson, there's not many better 1-on-1 offensive players in the league. [Pietrus] had to guard him on an island a lot. And the fact that he was able to do a pretty good job allowed us not to have to help and rotate."
Pietrus got a tongue-lashing from Rivers during Game 2 in Atlanta. Thrust into a starting role with Rajon Rondo suspended, Pietrus picked up three fouls in a 34-second span early on and was forced to spend much of the first half on the bench. Even when he came back in, he committed some sloppy plays that drew Rivers' ire for not having his head in the game.
Pietrus appeared to mope a little bit immediately after the dust-up, but shook it off before providing some key defense in the second half. As Rivers noted earlier this week, "I thought that was huge for us. You're going to get it at times in the games. And it's going to come from me or someone else. It was good -- he got emotional, we took him out, but we brought him back in and he was great."
If Allen or Bradley is limited on Sunday, Pietrus will get first crack at heightened minutes during Game 4. It's on him to make the most of the opportunity. He comes with the reputation of elevating his game in the postseason, but Pietrus seems to acknowledge that he hasn't started this series exactly as he might have liked.
The bottom line to him -- and the team -- is winning games.
"At the end of the day we won the game, that was our main focus," he said after Game 3. "I know that we didn't play extremely well [Friday], but that's playoff games. Sometimes they are going to take your stuff away, but you have to deal with it and get the best out of it."