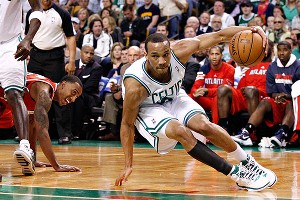 David Butler II/US Presswire
Avery Bradley drives against the Hawks in Game 4.BOSTON -- If Avery Bradley's left shoulder was ailing, it didn't detour his use of the right one.
Bradley, listed as a game-time decision after dislocating that left shoulder in Friday's Game 3, started at shooting guard and played a manageable 18 minutes, 43 seconds while chipping in 6 points, a rebound and a steal in the Celtics' 101-79 triumph over the Atlanta Hawks in Game 4 of an Eastern Conference quarterfinal series at TD Garden.
Bradley ignited Boston's offensive outburst with consecutive buckets early in the first quarter (this while putting up four shots in the first 3:41). He went cold soon after and connected on just 2 of 7 shots overall, but Boston's lopsided second-half lead allowed him to limit his floor time (he played just 6:32 after the intermission).
Bradley confirmed that the shoulder has dislocated on multiple occasions this season and the condition has worsened each time, but he said he's been able to control it with treatment. He does not believe he'll need offseason surgery.
"I just need to get it stronger," said Bradley.
A healthy lead allowed the Celtics to lean hard on the likes of Keyon Dooling (10 points, 12 minutes) and Marquis Daniels (4 points, 22 minutes) instead of ailing bodies like those of Bradley, Paul Pierce (knee) and Ray Allen (ankle).
---
Some leftover news and notes from Boston's Game 4 triumph:
* The Hawks got a boost with the return of Al Horford, who had missed nearly four months while rehabbing from a torn left pectoral muscle suffered on Jan. 11 in Indiana. Horford showed some natural rust, but chipped in 12 points and 5 rebounds over 20 minutes off the bench.
"We knew that it would be a game-time decision," said Hawks coach Larry Drew. "After he warmed up, we'd see how he felt. He came in after he warmed up and said he felt good, that he wanted to give it a go. So right then and there I knew that I would give him some minutes. My plan was to play him about 5 minutes a quarter, just to get his legs, get his wind a little bit. He actually got out there and said that he felt pretty good so I played him just a little bit longer."
Said Horford: "I felt OK, just excited to be back. I wanted to be a game-time decision because in the past two weeks I kept going back and forth on whether or not I was going to be able to play. Finally, I felt good enough and confident enough to go out there. Obviously, it's disappointing for us to come out and lose this way, but the good thing is, is that we're going back home. It's 3-1 and I'm sure a lot of people are probably writing us off already. We feel pretty good about going back home."
Horford was noncommittal on his status for Game 5.
"We'll see how I feel [Monday]," he said. "Either way, I'm going to be supporting the team. If I can play, I will; if not, then I'll be there to support them like I have all year."
* Fresh off a 37-minute effort in his return on Friday, Allen logged an ankle-friendly 19:06 Sunday, chipping in 12 points on 5 of 9 shooting (2 of 3 beyond the arc) off the bench. Allen raved about how he felt before and after Sunday's Game 4.
"I feel surprisingly great," he said. "I'm really managing my off days really well. And you have a tendency when you get back off of an injury, you kind of let it slide a bit and I haven't been. And it's important to me to rest up, just staying off of it."
* Kevin Garnett was asked about Allen's ability to not miss a beat since returning from right ankle woes. His answer was atmospheric: "I don't know if you guys follow astrology and all the things with the moon and stuff. But I think the moon's the biggest that it has ever been today," Garnett said of Saturday's Supermoon. "Ray missed a free throw [the other night] that was just like seeing that moon." Which is a roundabout way of saying it's rare and rather unbelievable.
* Atlanta's Jeff Teague earned a flagrant-1 for a hard foul on Bradley at 8:13 of the third quarter.
* The Celtics, who missed their first 19 3-pointers of this series and have been fairly ice cold beyond the arc against the Hawks, connected on a whopping 11 of 26 attempts (42.3 percent) Sunday to aid their offensive outburst.
* Just how good was Boston's offense on this night? The Hawks didn't register a single blocked shot.