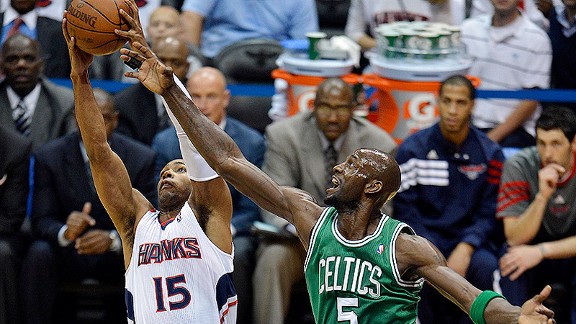 Paul Abell/US Presswire
Kevin Garnett and Al Horford chase a rebound in Game 5 of an Eastern Conference quarterfinal series.ATLANTA -- Rapid reaction after the Atlanta Hawks defeated the Boston Celtics 87-86 in Game 5 of an Eastern Conference quarterfinal series Tuesday at Philips Arena (Celtics lead series, 3-2):


HOW THE GAME WAS WON
Al Horford, back in the starting lineup for the first time since tearing a pectoral muscle on Jan. 11, paced five Hawks starters in double figures with 19 points and 11 rebounds over 41 minutes (so much for a minute restriction). Josh Smith added 13 points and 16 rebounds for Atlanta. Kevin Garnett and Paul Pierce each had 16 points for Boston, while Ray Allen added 15 points off the bench, but it was Rajon Rondo's late third-quarter exploits that made this a game after Boston fumbled away a double-digit, first-half cushion. Rondo finished with 13 points, 12 assists, and 5 rebounds over 43:58.
TURNING POINT
The Celtics erased a 7-point deficit with less than four minutes to play by leaning on their Big Three (Garnett fadeaway, Pierce rattling home a bucket in the paint, Allen 3-pointer), but Horford responded with two big buckets, including an uncontested dunk in the lane, followed by a driving hook. Boston had a chance in the final moments to win it when Rondo stole an inbounds pass with 10 seconds to go, but he lost his dribble trying to drive and the Celtics couldn't get a final shot up.
BOLD PLAY OF THE GAME
Rondo put together a dizzying stretch late in the third quarter, singlehandedly taking over the game and bringing the Celtics back from a 12-point hole. In between throwing lobs to Ryan Hollins -- who had his best outing in a Celtics uniform while playing 19 intense minutes and chipping in 5 points and 4 rebounds -- Rondo produced three consecutive buckets in 51 seconds to help trim Boston's deficit to 66-64 at the end of three quarters. Rondo then hit a jumper early in the fourth quarter that temporarily put Boston back out front, but the Hawks wouldn't roll over with their season in the balance.
C'S LET HAWKS OFF THE ROPES IN FIRST HALF
The Celtics built a 10-point lead little more than three minutes into the second quarter with a 7-0 run as the Hawks went 3½ minutes without a bucket. But instead of delivering a knockout blow, Boston let the Hawks sneak back into the game. The Celtics went the next five minutes without a bucket and Atlanta rallied ahead with some strong 3-point shooting late in the first half. Marvin Williams (2), Joe Johnson and Jeff Teague combined for four triples over the final 123 seconds as the Hawks took a 40-37 advantage. Rondo drilled a trifecta of his own at the buzzer to knot the game at intermission.
WELCOME TO THE PLAYOFF RALLLY TOWEL FACTORY
The potential last game of the season at Philips Arena did little to fill up seats here. Right before tip-off, the entire side not visible on the TV broadcast was incredibly empty, highlighted by the white rally towels draped over each seat. Not a good look. Maybe that aided Boston in a strong start at both ends of the floor. Alas, by game's end, the seats had filled up (it was an announced sellout of 19,319) and the Hawks had plenty of support as they avoided being bounced from the opening round.
WHAT IT MEANS
The Celtics went and made things difficult on themselves yet again. They only have themselves to blame. Rondo looked at half speed for much of the first three quarters and Pierce was clearly a step slow because of his lingering left knee injury. Boston had a 10-point lead in the first half and could have put this game away given the Hawks shooting woes, but the hosts hung around long enough to steal the game. Now it's back to Boston for Game 6 on Thursday night at TD Garden and Boston can't mess around with the daunting possibility of having to return here for Game 7 on Saturday.