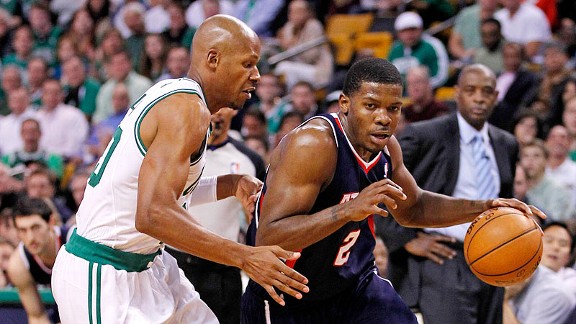 Greg M. Cooper/US Presswire
Ray Allen and the Celtics were looking to end Atlanta's playoff run in Game 6.BOSTON -- Rapid reaction after the Boston Celtics defeated the Atlanta Hawks 83-80 in Game 6 of an Eastern Conference first-round series Thursday evening at TD Garden (Boston wins the series, 4 games to 2):


HOW THE GAME WAS WON
Kevin Garnett. It's as simple as that. Garnett put the Celtics on his back the entire night, finishing with a game-high 28 points and 14 rebounds over a whopping 38:32. Paul Pierce battled through an MCL sprain in his left knee to chip in 18 points, 7 rebounds, 5 assists, 2 steals and 1 very important late-game block over 40 minutes. Josh Smith paced four Hawks starters in double figures with 18 points and 9 rebounds, while Joe Johnson added 17 points for Atlanta.
TURNING POINT I
The Celtics let the Hawks hang around much of the night, and it was a two-point game (67-65) early in the fourth quarter. Garnett scored six of Boston's next eight points, including a turnaround fadeaway for a 74-65 cushion with 8:42 to play. Playing as if they were blissfully unaware their season hung in the balance, the Hawks generated one field goal over the first six minutes of the final frame while Boston took control. It probably should have been enough, but Garnett had to come off the floor ...
TURNING POINT II
With Garnett out, the Hawks rallied right back into the game. After an Al Horford alley-oop from Smith, Atlanta was within a point (76-75) with under four minutes to go and Garnett was back at the scorer's table. That didn't stop the Hawks, who got a driving dunk from Smith and a Horford layup to go up 79-76 with 2:23 to play. Unfazed, Pierce muscled in a bucket with 2:05 to go, Boston's defense hung tough, and KG made a turnaround with 30.4 ticks left to put Boston back out front again, 80-79. Pierce came up with a big-time block, dragging his ailing knee to stick with Johnson on a drive to the rim in the final seconds. Atlanta got one final gasp with 3.1 seconds to play, but Horford, fouled by Marquis Daniels to prevent a layup, made just 1 of 2 freebies. Pierce essentially sealed it with two free throws of his own at the other end, as Atlanta, out of timeouts, couldn't get off a potential tying shot.
BOLD PLAY OF THE GAME
The Celtics capped a 16-0 second-quarter run in style. Jeff Teague had an open run at the basket down the left side of the lane, but Garnett hustled over from the other side of the floor for an emphatic block. Pierce corralled the rebound and pushed it to Rajon Rondo, who streaked in with Smith on his side before stopping in his tracks and delivering his famous one-arm fake that got Smith off the ground. Rondo then leaned in for an easy layup and a 41-31 lead with 3:51 to play.
SPEAKING OF KG BLOCKS
An incredibly active Garnett finished with 5 swats (nearly half of Boston's 11 on the night). It was only the third time in the Big Three era that Garnett has recorded five blocks or more and only second time since December 2007.
RONDO DOESN'T REACH DOUBLE-DIGIT ASSISTS
For the first time since March 9, Rondo failed to register double-digit assists, settling for 8 helpers over 38:46. Rondo did up his own scoring output, making 7 of 14 shots for 14 points.
C'S LOAD UP ON PADDING
Pierce wore wraps on both knees with protective rubber sleeves on top of that to combat a sprained MCL. For the first time since dislocating his shoulder in Game 3, shooting guard Avery Bradley (6 points over 21:31) sported a wrap over his left shoulder (aiming to aid a strained left rotator cuff).
DOC STICKS WITH STIEMSMA EARLY, HOLLINS LATE
Even after Ryan Hollins provided 19 quality (and energetic) minutes in Game 5, Celtics coach Doc Rivers stuck with his typical substitution pattern and made rookie center Greg Stiemsma the first big man off the bench. After getting beat on a bucket early on, Stiemsma atoned with a highlight swat of a Teague layup attempt. Hollins took the center baton by the second quarter and played 18:15, including some crunch-time burn to solidify the Boston defense.
WHAT IT MEANS
Bring on the 76ers. The Bulls fumbled away Game 6 in Philadelphia on Thursday as Omer Asik missed a pair of late free throws and Andre Iguodala made it hurt with two pressure-packed freebies of his own to win it at the other end with 2.2 seconds to play for an 79-78 triumph. That means the eighth-seeded 76ers will visit TD Garden on Saturday night for Game 1 of an Eastern Conference semifinal series (Game 2 is Monday). Boston spared itself the grind of having to travel to Atlanta for a decisive Game 7 by coming up big late. It will be interesting to see how these veteran legs, worked hard in the first round, respond as an athletic 76ers bunch invades the Garden this weekend.