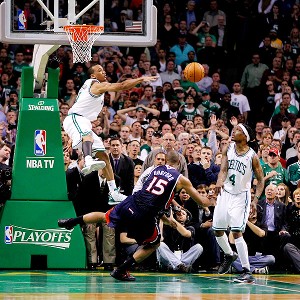 Greg M. Cooper/US Presswire
Marquis Daniels (4) got caught in a mismatch with Al Horford (15) late in Game 6.BOSTON -- Celtics swingman Marquis Daniels played a mere 7 seconds in Thursday's 83-80 triumph over the Hawks in Game 6 of an Eastern Conference quarterfinal series at TD Garden. Fair or not, it was nearly a goat-worthy performance as Daniels was forced to foul Al Horford to prevent an easy basket in the final seconds. Horford missed one of the two free throws with a chance to tie the game and Boston escaped with the narrow win.
As Celtics coach Doc Rivers explained, Daniels should never had been in that position.
"We wanted to go small with one big," Rivers said of the personnel swap that saw Daniels replace Brandon Bass in the final moments. "The mistake we made -- and we were trying to scream (to alert the players) -– Marquis should've been guarding the ball out of bounds, and Kevin (Garnett) should've been on (Al) Horford. They got mixed up, and we got lucky."
The Celtics actually got lucky twice. After Daniels initially subbed in, he matched up with Horford with the ball being inbounded below the baseline. With a foul to give, Daniels got whistled for playing the role of offensive lineman as Horford tried to muscle his way toward the hoop.
If Daniels was out of position, the Celtics didn't correct it after the whistle. Again Daniels defended Horford coming out of the stoppage in play and Josh Smith alertly noticed the mismatch. Smith lobbed a perfect feed to Horford in the circle with the Hawks down 2 with 2.3 seconds to go, but Daniels this time gave a hard (and clean) foul while making sure Horford didn't get up a shot.
Horford missed the first of two freebies, essentially preventing a chance at overtime.
"We were going to try to just get the ball to Joe (Johnson) in the middle and just let him operate," Hawks coach Larry Drew said of the original play-call in the late-game situation. "Josh had the awareness of the matchup and got it over the top. Then Al got fouled, and he just did not put them down. I thought that was a heads-up play for Josh, in terms of who they had on Al that he would pass over the top. He just didn't make the free throws at the end."
While the Celtics put Daniels in a tough spot, teammate Keyon Dooling said it spoke volumes the way Daniels mad smart decisions despite limited floor time this season.
"For a guy that's 210 pounds to be able to stop a guy who's 270 pounds from going up, not letting him get the shot up -- and you know he sat the whole game -- it's just a testament to (Daniels) being a true professional, always being ready to go, every time his name is called," said Dooling. "No matter if it's at the peak of the game, the climax of the game, he's just ready to step up and he made a great play in fouling Al Horford there."