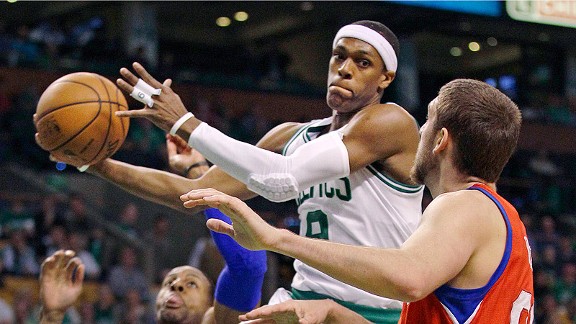 AP Photo/Charles Krupa
Rajon Rondo looks to dish in traffic in Game 2 against the Philadelphia 76ers.BOSTON -- Rapid reaction after the Philadelphia 76ers defeated the Boston Celtics 82-81 in Game 2 of their Eastern Conference semifinal series at TD Garden, tying the series 1-1:


HOW THE GAME WAS WON
Jrue Holiday scored a team-high 18 points, making a quartet of 3-pointers, as the 76ers hung on down the stretch despite fumbling away a double-digit fourth-quarter lead for the second time in as many games. Andre Iguodala added 13 points, 7 rebounds and 6 assists for the Sixers. Ray Allen paced Boston with 17 points off the bench, while Kevin Garnett chipped in 15 points and 12 rebounds. The Celtics struggled offensively, connecting on just 41.8 percent of their shots (33 of 79), and Paul Pierce mustered a mere seven points over 36:36.
TURNING POINT I
After a forgettable third quarter (the Celtics were 4-of-17 shooting and scored only 11 points), Boston finally found an offensive pulse in the fourth frame. A Garnett step-back jumper and an Allen layup lit the fuse, but it was two 3-pointers from previously ice cold Mickael Pietrus that pulled Boston within a possession (erasing what had been a 10-point deficit). The Celtics didn't tie the game until Garnett muscled in a turnaround with 4:33 to play. The game would seesaw over the next three minutes before ...
TURNING POINT II
After Avery Bradley and Holiday alternated 3-point shots that had Philly out front by two, Allen took a Rondo feed and buried a triple from the right wing for a 75-74 lead with 1:40 to go. Evan Turner's driving layup put the Sixers back on top with 40.4 to play and Allen missed a fadeaway baseline jumper. The Celtics put themselves in position to have to foul with a questionable decision, but still had a chance to tie after Turner made a pair of free throws for a 78-75 lead with 12 seconds to go. The Celtics never got a chance, however, as Garnett was whistled for an offensive foul. Boston never had a chance to force overtime after that, despite late 3-pointers from Allen and Garnett.
BOLD PLAY OF THE GAME
Call it Lob(ster) City. Rondo delivered three alley-oop lobs to three players during Monday's game, none more noteworthy than one that Garnett put down with 3:17 to go that tied the game at 69-69. Garnett got fouled, but missed the free throw that would have put Boston out front. In the first half, Ryan Hollins (with Spencer Hawes all over him) and Greg Stiemsma each threw down Rondo feeds.
C'S TRY TO GET BASS GOING EARLY
The Celtics seemed to be making a concerted effort to get forward Brandon Bass going out of the gates. It has been a quiet postseason for Bass, who scored eight first-quarter points while hoisting eight shots, but he went cold after an initial outburst. Bass finished 5-of-15 shooting with 15 points and 5 rebounds in just 23:38 of playing time (this including nearly all of the first quarter).
BRADLEY RETURNS AFTER INJURY SCARE
Despite dislocating his banged-up left shoulder after being blocked by Elton Brand late in the first half, Avery Bradley returned for the fourth quarter and provided a spark. He finished with 8 points on 3-of-6 shooting over 20:14, but Boston thrived with him on the court.
WHAT IT MEANS
If we're being honest, the Celtics had no business winning this game. Through three quarters, Boston shot a mere 33.9 percent (20-of-59 overall, 2-of-11 beyond the 3-point arc) and turned the ball over 15 times. But Philadelphia seemed in no mood to capitalize. The 76ers shot 39.7 percent over that span and turned those 15 giveaways into just six points. Give credit to the Sixers down the stretch, though, as they didn't wilt the way they did in Saturday's Game 1. Now the series is tied as it shifts to Philadelphia, which puts the pressure on Boston to steal a game away from the Garden.