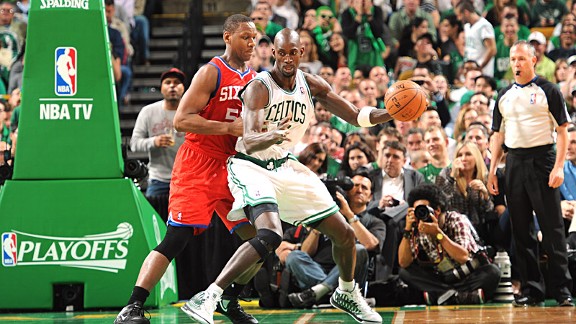 Brian Babineau/NBAE/Getty Images
Garnett is playing a vital role for the Celtics and logging extra minutes.ESPN.com's Beckley Mason writes on TrueHoop that Kevin Garnett has been Celtics' center since February, but is now the epicenter too:
Here's a big question: How many minutes can Kevin Garnett play?

Here's another big question: Can the Celtics get anything done without him?

Through 60 regular season games, Kevin Garnett played more than 38 minutes one measly time. Eight games into the playoffs, he has already passed that number every time, but for a blowout first win against the Hawks and Game 2's loss to the Sixers.

On Monday night, the Celtics were outscored by 17 points in the 14 minutes that Garnett sat. Coach Doc Rivers rested his key big man in the second and third quarters, which is the precisely when Philadelphia grabbed control of the game and established, then fattened a lead that the Celtics could not overcome despite Garnett playing the entire fourth quarter.

Back in February, Doc Rivers moved Garnett to the center position. At this point in the playoffs, no descriptor could be more accurate. With Pierce and Allen struggling to produce on injured legs and Avery Bradley's left arm reduced to dangling uselessness, Garnett is the hub of everything the Celtics do offensively and defensively -- he is literally the center of the Celtics' hopes
Hop HERE to read the full story.