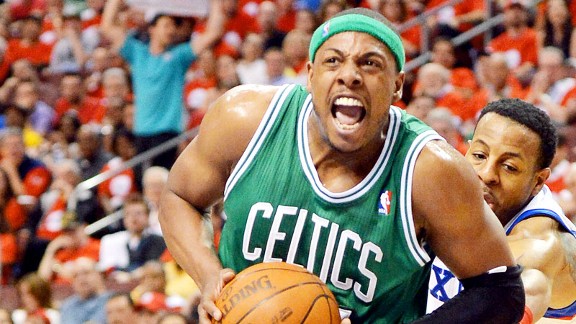 Drew Hallowell/Getty Images
Celtics captain Paul Pierce had extra energy early on in Game 3.PHILADELPHIA -- Rapid reaction after the Boston Celtics defeated the Philadelphia 76ers 107-91 in Game 3 of an Eastern Conference semifinal series Wednesday night at Wells Fargo Center. (Boston leads the series, 2-1).


HOW THE GAME WAS WON
Kevin Garnett posted 27 points on 12-of-17 shooting with 13 rebounds and four assists over 30 minutes in an absolutely dominating performance. Garnett was plus-27 during his time on the court, helping Boston open a double-digit lead at halftime and blowing the game open soon after. Rajon Rondo came out in attack mode and chipped in 23 points on 9-of-16 shooting, then settled into distributor mode, finishing with 16 assists over 40:44. Boston shot 51.9 percent (40-of-77) from the floor overall. Thaddeus Young scored a team-high 22 points on 10-of-16 shooting for the 76ers, and Philadelphia's bench accounted for 55 points overall. Jrue Holiday had a starter-high 15 points, but the rest of the 76ers' starters were a combined 7-of-30 for 21 points.
TURNING POINT
Forced to sit out the final 5½ minutes of the first quarter due to foul trouble, Garnett made up for lost time early in the second frame. He made three consecutive shots, kissing the last one off the glass on a turnaround, to ignite a 14-2 run that turned a four-point deficit into a 47-39 lead midway through the frame. The 76ers endured a 5-minute, 10-second span without a field goal, but Boston didn't relent even after a Lou Williams pull-up jumper ended the drought. Boston promptly embarked on a 14-4 burst that included six more points from KG (8-of-11, 17 points in the first half) and was capped by Mickael Pietrus' second 3-pointer of the game. A reverse layup from Rondo had the Celtics up 60-49 at the intermission. As ESPN Stats & Info noted, on Monday the Celtics didn't score their 60th point until 8:36 remaining in the fourth quarter of an offensively anemic Game 2.
BOLD PLAY OF THE GAME
After looking a step slow due to the sprained MCL in his left knee in Game 2, Paul Pierce came out with sleeves over his knees, but was clearly feeling good, grunting and screaming with boundless energy every time he went to the rim. Despite playing all of the first quarter, he still had enough energy and bounce in his legs in the final two minutes to produce a pair of dunks in a 25-second span, driving straight at the Philadelphia defense. It only lit the fuse for Pierce, who finished with 24 points on 6-of-17 shooting but got to the line often while connecting on 11 of 14 freebies. He added 12 rebounds and four assists over 37 minutes.
VALUE THE BALL
Rondo gave the ball away less than a minute in, leading to an Andre Iguodala dunk in transition. From then on, Boston took care of the basketball, turning it over just one other time in the first half (it did lead to an Iguodala 3-pointer). As those two giveaways showed, the 76ers can do a lot of damage off turnovers, but the Celtics did a phenomenal job taking care of the ball and giving themselves a chance to put points on the board. Boston finished with a mere seven turnovers for seven points.
C'S OFFENSE SHOWS UP EARLY; DEFENSE ARRIVES LATE
After all their offensive woes in the middle quarters of Game 2, the Celtics came out strong with both Rondo and Pierce attacking the basket. Boston put up 28 first-quarter points -- four more points than they scored in the second and third quarters of Game 2 combined) -- but still trailed 33-28 after the first frame as the 76ers shot 61.9 percent and their bench was 6-of-7 for 13 points. The Celtics hit five of their first seven shots in the second quarter to surge ahead 39-37 less than four minutes in and barely looked back.
LOOSE BALLS
With the game in hand, the Celtics were able to trot out the end of the bench for the final three minutes, running with a lineup of Keyon Dooling, Marquis Daniels, E'Twaun Moore, Sasha Pavlovic and Ryan Hollins. ... Sixers legend Julius Erving delivered the official game ball to half court before the opening tip. ... During one timeout, the JumboTron showed a handful of Philadelphia Eagles in attendance, including Michael Vick. All the players got cheers, but owner Jeffrey Lurie heard boos (it's worth noting that Patriots owner Robert Kraft got a standing ovation when shown back in Boston earlier in the series). ... Ayla Brown, daughter of Massachusetts senator Scott Brown, sang the anthem before Wednesday's game in a Sixers shirt (she sings all the anthems here in Philly this season). ... The 76ers handed out red T-shirts with the tagline "Passionate. Intense. Proud." to fans before the game. ... Philadelphia's pregame meal featured a make-your-own-donut station (with bacon and candy topping options). The media thanks you.
WHAT IT MEANS
How can the Celtics look so offensively anemic one night, then two days later go out and put up triple digits on the road? That's the 2012 season in a nutshell. This team is frustratingly inconsistent on a night-to-night basis, but when the Celtics are on, they are on. Boston's offense was locked in all night Wednesday and, once the defense tightened up after the first quarter, the game was rarely close again. If the Celtics came here to steal back home-court advantage, then they are already playing with house money in Friday's Game 4. The Celtics stole that and momentum back by absolutely throttling the Sixers on their home turf. Of course, the question is whether they can carry it over to the next meeting. If they do, they could be headed back to Boston looking to close this series out.