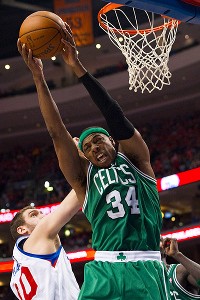 Howard Smith/US Presswire
Paul Pierce spent much of Game 3 hanging out around the rim.PHILADELPHIA -- The cynic will wonder if maybe Celtics coach Doc Rivers was just baiting us all. Or maybe he was just trying to use a little reverse psychology on his captain. Either way, during Boston's morning shootaround on Wednesday, Rivers openly acknowledged how Paul Pierce could rarely get himself open while battling a sprained MCL in his left knee and suggested the Celtics might have to alter their offense to get him more clean looks.
Seven hours later, Pierce, ever the gamer, went out on the floor and seemingly willed himself to his best effort since sustaining the injury earlier this month, putting up 24 points, 12 rebounds, four assists and three steals over 36:34 as part of the Celtics' 107-91 thrashing of the 76ers in Game 3 of an Eastern Conference semifinal series at Wells Fargo Arena.
"Paul is just a grinder," said Rivers. "He really is. You look at him at times and you wonder, 'How is this guy getting open?' He just has great fundamentals. He never does it with speed. He just knows how to play basketball. He's a throwback guy, that he knows how to play basketball. We jokingly call him our 'professional scorer' and that's what he is in a lot of ways. But, again, with him you could see early on, he missed layups, had no lift, and then all of a sudden he dunked the ball down the lane, he gets five offensive rebounds. I think guys like Paul and the Kobe [Bryants,] they have something in their minds that just make them who they are."
Here's all you need to know: Pierce has already grown tired of the question about his knee. Not one to pin his troubles on an ailment, he's noted after each of the last two games that he's fine, barking after Wednesday's win that "I've felt good all series."
That's a half-truth from the Truth. He's felt good enough to play all series, but he's clearly not feeling good. That bum knee has prevented him from having his natural explosion, leaving him a step slow, all while being hounded by (or having to hound) Andre Iguodala. Pierce seemingly compensated on Wednesday with desire.
During one early first-quarter sequence, Pierce missed four shots (including three putbacks), but just the sight of him scrapping around the glass, desperately trying to put back each miss, showed how much he wanted to play -- and play well -- in a pivotal game in this series. Pierce would register only two field goals in the first half, ironically both late first-quarter dunks (an incredibly positive sign).
Coming off a pick-and-roll with Rondo, Pierce got Iguodala to overcommit as he caught the ball stepping back behind the 3-point line on the left wing. Pierce took off toward the hoop and, when Lavoy Allen was too late rotating over, Pierce threw down a vicious two-handed jam while being fouled.
Just 25 seconds later, after initially trying to post up Jrue Holiday, Pierce again exploded from the left side, this time cutting baseline and dropping a one-handed jam over Thaddeus Young. Pierce was only 2-of-10 at halftime of Game 3 -- this on the heels of a 2-of-9 performance in Game 2 -- but he had also generated seven free throw attempts and six rebounds at the intermission. Pierce went on to score 15 second-half points on 4-of-7 shooting as Boston's lead ballooned as high as 27.
"[Pierce] played great for us tonight," said Rajon Rondo. "Paul has been struggling scoring, but he has been doing the intangibles. On those [first-quarter] drives, he didn't get some calls early in the game and thought they were fouls, so he went out and was aggressive and finished strong."
Pierce could be heard grunting each time he went hard to the rack, almost like he was exerting extra effort in trying to compensate for whatever his knee won't allow him to do.
"Whether I shot the ball well or not, everything I was going to do was being with aggression," said Pierce.
Later Pierce added, "Everything I was going to do was going to be aggressive because they were really collapsing on me on the down-screens, on my jumpers. I just tried to get to the hole and I was able to get to the line, able to get to the rim a number of times. It's something I have to continue to do."