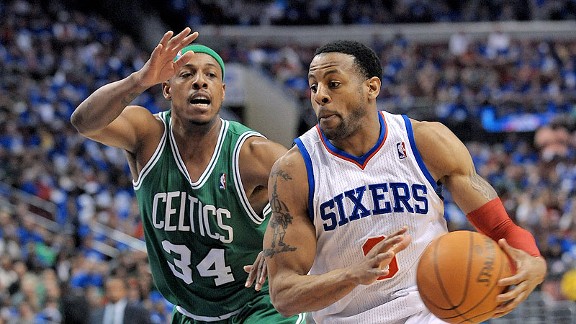 Eric Hartline/US Presswire
Andre Iguodala and the 76ers got past Paul Pierce and the Celtics in Game 6.PHILADELPHIA -- Rapid reaction after the Philadelphia 76ers defeated the Boston Celtics 82-75 in Game 6 of an Eastern Conference semifinal series Wednesday night at Wells Fargo Center. The series is tied at three games apiece:


HOW THE GAME WAS WON
Jrue Holiday scored a team-high 20 points to pace five 76ers in double figures, while Elton Brand added 13 points and 10 rebounds. Paul Pierce scored a game-high 24 points on 5-of-11 shooting with 10 rebounds, while Kevin Garnett kicked in 20 points on 9-of-20 shooting. Alas, the Celtics shot a mere 33.3 percent (26-of-78) from the field overall, and endured too many lulls to give themselves a true chance to steal the game and finish off this series.
TURNING POINT
Despite shooting a mere 31.7 percent (19-of-60) through three quarters, the Celtics were within four at the start of the fourth quarter. It felt like if they could turn it on for 12 minutes, they might actually have a chance to steal this thing. It never really happened. Holiday sparked a little 7-0 burst with a turnaround jumper and a driving layup. A Lou Williams runner with 7:15 to go had the 76ers out front 70-59. Considering Boston's offensive woes, that 11-point hole seemed like a 33-point deficit on this night.
BOLD PLAY OF THE GAME
Andre Iguodala split three members of Boston's big four, sliding between freshly minted NBA all-defense second-teamers Garnett and Rajon Rondo while Ray Allen scrambled over late with help, before throwing down a vicious one-handed jam over Pierce. Add in the and-1 free throw, and the Sixers were out front 46-41 with 6:50 to play in the third quarter. Iguodala's old-fashioned three-point play capped an 11-0 burst after Boston had led by as much as eight early in the second half.
LET'S NEVER TALK OF THE FIRST HALF AGAIN ... EVER
The Celtics and 76ers combined to connect on a mere 27 of 76 shots (35.5 percent) in a first half that featured more droughts than the Atacama Desert. The Celtics shot 13-of-41 (31.7 percent), and the 76ers weren't much better at 14-of-35 (40 percent). The teams combined for a mere 12 second-quarter field goals (30 percent shooting) and 28 total points. After an almost 5-minute stretch without a bucket, Garnett hit a late jumper and Mickael Pietrus added a 3-pointer -- accounting for two of Rondo's three assists in the first half -- and Boston actually led 36-33 at the intermission. The first half also featured 16 turnovers, nine by Philadelphia. Just a complete eyesore.
THEY STOLE HIS MOVE
Poor Keyon Dooling. Not only did "The Reverend" eat some leather when Thaddeus Young saved a ball by throwing it off Dooling's face late in the first quarter, but the Philadelphia fans started Flexin' -- Dooling's signature sideline dance move -- to celebrate the moment. On this night, the Celtics rarely had reason to flex.
SIXERS BRING BACK 'THE ANSWER'
Looking for a Game 6 spark with their backs against the wall, the Sixers brought back Allen Iverson to deliver the game ball before tipoff. Dressed in a No. 23 76ers jersey, Iverson handed the ball to referee Joey Crawford, dapped up the entire Sixers roster, then departed to a strong ovation. It didn't seem to help his old team out of the gates, but a little video-board montage got the crowd roaring in the second half, and Iverson waved in appreciation from a luxury box.
CELEBRITIES!
Iverson might have been the biggest name in the building, but the 76ers also trotted out the U.S. women's soccer team, actor Kevin Hart, rapper Meek Mill and Eagles running back LeSean McCoy. Boston's Ayla Brown not only handled her normal anthem duties, but sang a few songs as the halftime act.
WHAT IT MEANS
Don't tell me you didn't see this coming. The Celtics continued their Big Three era pattern of acting allergic to first-try closeouts. Heck, the team is now 10-13 in closeout opportunities overall. Fortunately for the C's, they often take care of business at home and will get a second chance to end things with Saturday's Game 7 in the friendly confines of TD Garden. Boston will look back and kick itself, as the Sixers tried their damndest to let Boston end this series -- turning the ball over nine times in the first half (for 10 points) and missing 11 free throws overall. The Celtics never got into a rhythm offensively, and when jumpers wouldn't fall (particularly for Brandon Bass, who was 2-of-12), they couldn't play catch-up, as the 76ers got easy points near the rim. The Celtics get two much-needed days to rest weary legs (KG played 41 minutes) before a decisive Game 7.