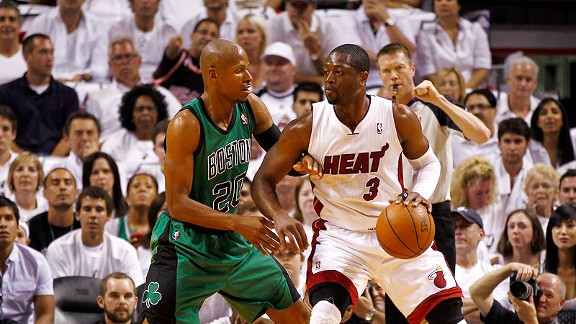 Mike Ehrmann/Getty Images
Ray Allen and the Celtics struggled to slow Dwyane Wade and the Heat.MIAMI -- Rapid reaction after the Miami Heat defeated the Boston Celtics 93-79 in Game 1 of the Eastern Conference finals Monday night at AmericanAirlines Arena. (The Heat lead the series 1-0.)


HOW THE GAME WAS WON
LeBron James scored a game-high 32 points on 13-of-21 shooting with 13 rebounds, three blocks and three assists over 44 minutes, while Dwyane Wade added 22 points on 8-of-13 shooting with seven assists, three rebounds and two blocks over 38:14. Not only did Miami pack its one-two punch, but it got help from the supporting cast: Shane Battier and Mike Miller combined for 18 points behind four 3-pointers; Mario Chalmers chipped in nine points, five rebounds and four assists. Kevin Garnett scored a team-high 23 points on 9-of-16 shooting with 10 rebounds to pace Boston. Rajon Rondo flirted with a triple-double -- 16 points, nine rebounds, (only) seven assists -- and didn't commit a turnover after the first quarter, but simply couldn't get it going on this night. He was 8-of-20 from the field, and Boston shot only 39.5 percent (32-of-81). The referees did the Celtics (four technicals) no favors, but it wasn't the reason Boston lost this game.
TURNING POINT
After the Celtics' bipolar first half (11 first-quarter points, 35 second-quarter points), their shooting woes returned in the second half. Boston connected on just six of 22 shots (27.2 percent) in the third quarter and watched the Heat push their lead back to double digits. The key stretch started with about 8 1/2 minutes to go in the frame. Shane Battier blocked a Rondo layup attempt and hit a leaning 3-pointer at the other end. Soon after, Wade grabbed a rebound and threw a perfect outlet pass to a sprinting James, who was behind the defense, for an easy layup. Boston's legs were clearly a bit weary, and, next trip down, Wade blew right past a trio of Boston defenders, including Allen -- who offered no resistance -- for a layup. The Celtics switched Rondo onto Wade after a timeout, but Allen lost James Jones, who hit a wide open 3-pointer for a 62-54 lead with 5:34 to go in the quarter. A 10-1 burst later in the frame -- keyed by Wade and James layups and a Mario Chalmers dunk -- had the lead at 72-59. The run would finish at 16-3 after a fast start in the fourth quarter left Miami with a 78-61 cushion.
BOLD PLAY OF THE GAME
While Wade made his usual impact on the scoreboard through the traditional scoring route, you have to be impressed by some of his passing in this game. Not only did he have the perfect football pass to James as part of the third-quarter run, but he zipped a highlight-worthy left-handed bullet pass to Joel Anthony for a two-handed jam early in the fourth quarter. Wade had both Rondo and Brandon Bass nearby off the pick-and-roll but split them with the perfect pass as Anthony went to the rim and finished over Allen.
FIRST QUARTER: LEBRON 13, CELTICS 11
Boston didn't carry any momentum from its Game 7 triumph over Philly into Game 1 against the Heat. No, just the same offensive woes we saw throughout that series. The Celtics were 5-of-20 shooting (25 percent), and James had more points (13) after 12 minutes than Boston (11). The Celtics didn't aid their cause with four Rondo turnovers, including one particularly lazy attempt that James easily picked and literally walked to the rim. The Heat generated 14 points in the paint in the frame.
THREE TECHS CAN'T COOL C'S IN SECOND QUARTER
The Celtics started the second quarter staring at a double-digit deficit, then got tagged with three technical fouls: one on Allen, another for delay of game on Garnett and a questionable-at-best call against Doc Rivers for arguing a non-call. Despite it all, Boston shot a scorching 13-of-22 (59 percent) from the floor and scored a playoff-high 35 points in the frame, and it was tied at 46 at the intermission. Considering all the noise -- including an improbable four missed first-half free throws by Allen -- Boston had to be satisfied to be knotted at the break.
RONDO GETS A TECH, TOO
As the Heat gained some separation in the third quarter, Rondo got tagged with a technical for pushing Shane Battier under the basket midway through the frame. That was probably the most deserved technical of the night for Boston. Referees didn't lose this game for Boston, but it's worth noting that "Ed Malloy," "Another T," "Tech" and "These Refs" were all trending on Twitter shortly after.
BRINGING THE H-E-A-T
The Heat went for a whiteout by giving away T-shirts that had the individual letters H-E-A-T spelled out on them. Credit to the often-maligned Miami crowd, which filled up the arena in time for the South Beach-friendly 8:30 p.m. ET tip.
WHAT IT MEANS
Not the start Boston was looking for in this series. To be tied at the half was a bit of a gift considering everything that had gone wrong, but instead of capitalizing in the second half, Boston let this one get away, and the arena had emptied out by the final minutes. The Celtics need to put this one behind them and try to steal Game 2, but Monday proved that stopping the James-Wade combo is going to be no easy task. The Celtics need to figure out how to get more consistency from their offense. Outside of the second quarter, Boston was a frightening 19-of-59 (32.2 percent). An off day awaits Tuesday before Game 2 back here Wednesday night.