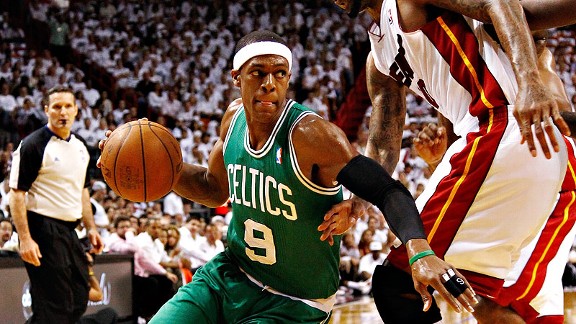 Mike Ehrmann/Getty Images
Rajon Rondo and the Celtics started slow but soon charged to a Game 5 victory.Rapid reaction after the Boston Celtics defeated the Miami Heat 94-90 in Game 5 of the Eastern Conference finals at AmericanAirlines Arena. (Boston leads the series, 3-2).


HOW THE GAME WAS WON
Kevin Garnett scored a team-high 26 points on 11-of-20 shooting and added 11 rebounds, but it was Paul Pierce who overcame early shooting woes to chip in 19 points -- most notably a huge 3-pointer in the final minute -- to propel Boston to a monster road victory. LeBron James scored a game-high 30 points and added 13 rebounds, while Dwyane Wade added 27 points to help pace the Heat.
TURNING POINT I
The Celtics looked to be in meltdown mode midway through the third quarter. Rajon Rondo had a mind-numbing backcourt violation and soon after, Brandon Bass got a technical for slamming the ball down after a traveling violation. After rallying to tie the game at 50, the Celtics soon found themselves down nine with Miami looking to run away with the game. Instead, Boston closed out the quarter on a sizzling 15-1 run. Not only did Miami fail to generate a single bucket over the final six minutes of the frame, but Mickael Pietrus and Keyon Dooling drained consecutive 3-pointers to end the quarter and put Boston out front 65-60. Of course, the seesaw was just getting moving.
TURNING POINT II
The Celtics were up six with 10½ minutes to go when James Jones made an offensive rebound sting with a 3-pointer to halve the lead. A minute later, Rondo came up with a steal and was going the other way when Heat rookie Norris Cole picked his pocket from behind and Wade converted a second-chance layup to get the lead to 1. Miami had all the momentum and James followed a layup with a 3-pointer to push the Heat back out front. Four more points from Wade put Miami up six with little more than six minutes to play. Then it was Boston's turn.
TURNING POINT III
Rondo's fingerprints were all over the next Boston run, assisting on a crucial Pietrus 3-pointer with an incredible touch pass and adding two buckets. Then it was Garnett's turn. First, he blocked a James layup attempt, then put Boston out front 81-80 with a baseline jumper with 2:54 to play. Mario Chalmers got tagged with a technical that added another point to Boston's lead. He atoned with a 3-pointer, only for Pietrus to answer with one of his own. All of which set up ...
THE BIG FINISH
The Celtics were nursing a one-point lead after Udonis Haslem missed the front end of two freebies with 72 seconds to go. Pierce, sluggish out of the gates but heating up late, stepped up on the left wing and splashed a 3-pointer with James in his mug for a 90-86 lead with 52 seconds to go. Miami never got a chance to tie the game, as Boston made its free throws to keep the Heat at arm's length.
BOLD PLAY OF THE GAME
During Boston's third-quarter run, the Celtics got in transition after a James miss as Pierce quickly got the ball ahead to Rondo. Garnett was trailing the play, but James rolled out the red carpet and no one else stepped up in the lane (Jones offering a half-hearted foul) as Garnett threw down a tomahawk jam with 1:31 to play in the frame. With the free throw, Boston had tied the game at 60 and set the table for an insane, heart-stopping fourth quarter.
FIRST QUARTER: BOSH PLAY OF THE GAME
James and Wade combined for 14 early points, but it was the return of Chris Bosh that highlighted the opening frame for Miami. Late in the first quarter, Bosh got the ball rolling to the basket, slipped through Pietrus (who didn't offer much resistance) and Garnett (who compounded matters by delivering a foul) for a layup and an old-fashioned three-point play. Bosh chipped in five first-quarter points in a four-minute stint and the Heat owned a four-point lead (24-16) after 12 minutes.
SECOND QUARTER: C'S HANG AROUND
Despite trailing by as much as 13 and looking downright atrocious on offense, the Celtics hung around thanks in large part to Miami's turnovers (11 in the first half, including 10 steals by the Celtics) and Boston's defense (Miami missed 15 of its final 17 shots in the first half). Boston shot a mere 33 percent (14-of-42) before the break, but Miami wasn't much better (36.6 percent, 15-of-41) and the Heat were clinging to a 42-40 advantage at the intermission.
EARLY TROUBLES FOR RONDO
Rondo seemed a bit off early, missing his first five shots and turning the ball over twice in a haphazard first quarter. Compounding matters, Rondo picked up two fouls in less than seven minutes and appeared to suffer some sort of left elbow injury that needed sideline attention from trainer Ed Lacerte. He eventually shook off the cobwebs despite some head-shaking moments in the second half and was key to Boston's victory by dishing out 13 assists to go along with seven points and six rebounds over 44 minutes.
WHAT IT MEANS
Go figure, the Celtics have made things easy on themselves for a change. Not that Game 5 was particularly easy. The Celtics weathered the storms and made some big late-game plays to steal the win on the road. Boston has now won three straight while rallying out of an 0-2 hole. The Celtics sit one win away from a third trip to the NBA Finals in five seasons. Boston, which is now 9-0 in Game 5s of a tied series in the Big Three era, has a chance to close out at TD Garden on Thursday night. The alternative is less than enticing: a return to South Beach on Saturday night for a potential Game 7.