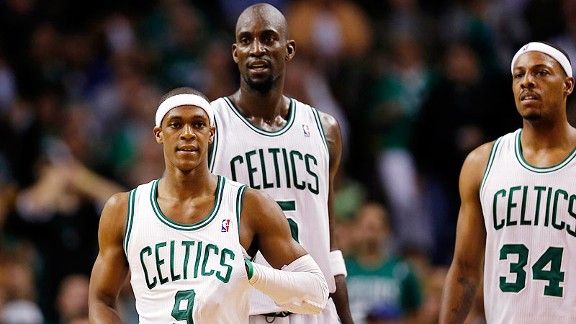 Greg M. Cooper/US Presswire
The Celtics did't give their crowd much to cheer about, but they did anyway.BOSTON -- The chant made no sense, really. The starters for the Boston Celtics had already retired for the night given that the Miami Heat had opened as much as a 25-point lead in the fourth quarter of Thursday's Game 6 triumph.
Yet as the final minutes ran off the clock and Miami evened the Eastern Conference finals, the hearty Boston fans that stuck around for what could be the last home game of the season (or maybe the last of the Big Three era) serenaded the home team with a raucous "Let's Go Celtics" chant.
It was as genuine as the "Good job, good effort" kid in Miami, but this won't turn into some Internet meme. No, Boston players were genuinely touched by the moment.
"I just wanted to say to all the fans, I knew it was going to be a crazy day, it took me three hours to get to the Garden today, that's unusual," said Garnett of the widespread gridlock that extended his typically 20-minute commute. "But I want to say to all the fans, thank you guys. I've never in my life experienced anything like this in any sport. I'm just truly blessed to be a Celtic and be a part of the city of Boston."
Asked specifically about the chant, Garnett added: "It was crazy. It was f---ing crazy."
Allow Ray Allen to elaborate.
"Kevin was sitting next to me, and I said -- I know I'm biased -- but they are the best fans I've ever played in front of or ever seen in my life," he said. "They understand the situation that is before us, and we understand it. And that was basically them sending us off (to Miami), letting us know, 'Hey, this is still well and alive. We need you guys to go down there and get a win for us.' We all felt it on the bench.
"I know the game was going on. It seemed like that three minutes lasted forever. It was special. I'll talk about that forever, just knowing that, being down 20, and these people are still standing up, cheering us on, because they know we just have to win one game."
Echoed Rajon Rondo: "It was unbelievable. We've always said this, but that just shows we have the best fans in sports. Not just basketball. A lot of them stayed, and the chant was unbelievable. It was a crazy feeling when you're down 20."
Celtics coach Doc Rivers marveled at the late-game motivation. And maybe he summed it up best.
"Did you hear our crowd the last three minutes of the game? What other crowd in the NBA does that?" asked Rivers. "It's a terrific place to play. The fans were unbelievable. They did their part tonight; we just didn't do ours."