The first in a series of profiles of players that might be of interest to the Boston Celtics during the 2012 NBA Draft (June 28, ESPN, 7 p.m.):
Projection: Late first round (Insider rank: 21st overall; Position rank: 8th)
In the News: Nicholson spoke with reporters just prior to the NBA Draft combine, and touched on the need to show scouts, general managers, and other team personnel his ability to play with consistent energy: "It's going pretty well, it's exciting, it's a good opportunity," Nicholson said, according to The Toronto Star. "Just need to show them that you play hard, you're consistent. It's not every day you're going to make shots so you just have to play hard."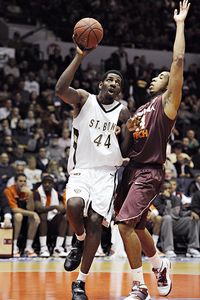 Richard Mackson/US Presswire
Nicholson at work for St. Bonaventure.Why the Celtics Want Him: From Boston's perspective, the best thing about Nicholson might be his accomplished post game around the basket. While he's capable of stepping out and scoring from the perimeter, Nicholson also has a strong variety of post moves. Aside from Kevin Garnett, who plays in the post sparingly, the C's have lacked a player in recent seasons who can create for himself down on the block (as far as guys from last season are concerned, Greg Stiemsma and Chris Wilcox aren't accomplished back-to-the-basket guys and Brandon Bass is still an elbow jump shooter first), and for a team that has routinely suffered through, at times, debilitating offensive droughts, potentially adding another type of weapon to its arsenal can't be seen as a bad thing.
Why the Celtics Don't Want Him: Boston's big man situation is still very cloudy right now, and will remain one of the more intriguing subplots throughout the offseason. Will Garnett forgo retirement and re-sign with Boston? Will Bass accept a reasonable salary figure and sign with the Celtics long-term? Will Stiemsma -- a restricted free agent -- be back? Will Wilcox come back (and will he be healthy)? And what about the development of JaJuan Johnson? If all of these chips fall back into place the way the Celtics would probably want them to, there won't be much need for a rookie big, as any minutes he might garner will most likely go to Johnson.
What's your take? Should the Celtics consider Nicholson? Sound off in the comments.