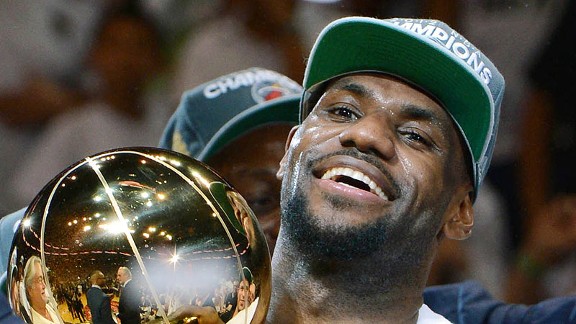 Steve Mitchell/US Presswire
LeBron James celebrates after Miami's Game 5 win over the Thunder.The Miami Heat are champions after finishing off the Oklahoma City Thunder with a 121-106 throttling in Game 5 of the NBA Finals Thursday nigh at AmericanAirlines Arena. Which begs the question: How should Celtics fans feel about Miami winning it all?
Oh, sure, it's unlikely that any Boston supporter is overly thrilled to see a rival hoisting the Larry O'Brien trophy (particularly when it could have been old friend Kendrick Perkins doing that for OKC). But can the Celtics take any solace in the fact that they took the champs to Game 7 in the Eastern Conference finals (putting up a better fight overall than the Thunder)? Or is the frustration of having missed an opportunity for Banner 18 too overwhelming to find that sort of silver lining?
Sound off with your thoughts on the Heat as champions in the comments.