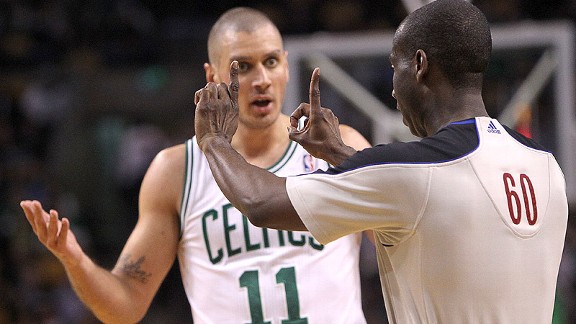 Barry Chin/Boston Globe/Getty Images
Sasha Pavlovic can't believe this referee called a foul on him.Over the three weeks leading up to start of the new league year on July 1, we'll take a player-by-player look at the Celtics' 2011-12 roster and how each player's season unfolded, assigning a grade for their overall performance. This is the 12th in the series of report cards:
Player: Sasha Pavlovic
2011-12 averages: 2.7 ppg, 1.6 rpg, 0.4 spg, 11.7 mpg
2011-12 salary: $1.2 million
Season in a paragraph: More than a few eyebrows shot skyward when the Celtics gave Pavlovic a fully guaranteed one-year deal to add some depth at the swingman spot (this on the heels of news that Jeff Green would miss the season due to a heart ailment). Pavlovic didn't exactly inspire confidence with his cameo late in the 2010-11 season, but he was a steady defender who kept himself ready for spot situations. Ironically, Pavlovic opened the year in the starting lineup while Paul Pierce nursed a heel injury. His time was sporadic for the next three months, but he appeared in Boston's last 21 regular-season games and got occasional playoff minutes.
Season highlight: Once Pierce returned to the lineup for the fourth game of the year, Pavlovic's minutes dried up. In fact, he earned a DNP in eight of the team's next 11 games (playing a mere 13 minutes in that span) before a surprise spot start against Orlando in late January. All Pavlovic did was respond with nine points on 4-of-9 shooting with four rebounds, two blocks and two steals over 34 minutes. It highlighted Pavlovic's biggest value: Being ready when injuries cropped up. For Boston, that's a very Scalabrine-like talent to have and can keep you on a roster.
Season lowlight: Maybe the only disappointment for Pavlovic is that he never got a chance to impact the postseason. After some solid minutes at the start of the Atlanta series as Ray Allen was sidelined with ankle woes, Pavlovic played just 20 minutes over the final 18 playoff games. Clearly, with Allen back the Celtics preferred to lean on Pierce and Mickael Pietrus at the swingman spot and Pavlovic never got a chance to bring his defensive intensity to the final two rounds.
Final grade: C+
Teacher's notes: Scoff if you will at a decent mark -- and many of you will -- Pavlovic did his job, which is the No. 1 talent a Boston bench player can have. Yes, his offense was atrocious. He shot a mere 39.1 percent from the floor and 29.3 percent beyond the 3-point arc. According to Synergy Sports data, he averaged a mere 0.795 points per play, ranking in just the 26th percentile (terrible for someone that leans heavy on the 3-point shot). Heck, Pavlovic shot a mere 28.9 percent on all jump shots this season (26 of 90). But let's face it, no one expected Jamal Crawford-type offense from Pavlovic (just a little bit more consistency in terms of offering something on offense). Defensively, despite drawing plenty of tough matchups at his position, Pavlovic allowed a mere 0.765 points per play, ranking in the 84th percentile overall (better numbers than Pierce and Pietrus produced at the same position). Pavlovic at least forced his opponents into the same offensive struggles that he endured. All of which made him a serviceable end-of-the-bench player, one that kept to himself and didn't rock the boat in a veteran locker room. Again, there's something to be said for bench guys that can simply do their role, and while he struggled offensively, Pavlovic knows it is his defense that keeps him employed.
What's next?: Pavlovic is an unrestricted free agent. He's had six stops in a nine-year career and could be looking at another new jersey next season if Boston is able to restock its swingman depth. If Pavlovic could ever maintain the confidence in his offensive game, he'd be a rotation player on a good team. He's worth a minimum contract for a team that needs a defensive presence off the bench and increased floor time could allow revive his offense to the level of his first few seasons in Cleveland.
Honor roll: Click HERE to read past report cards.
Don't agree with teacher? Just want to sound off on Pavlovic's 2011-12 season? Leave your thoughts in the comments section.